The number pad on standard 104-key keyboards mostly goes unused in my typing and gaming. That's why I've long favored tenkeyless (TKL) boards for my daily drivers. By leaving off the number pad, the TKL layout makes it more comfortable to switch between mousing and typing. I've long wondered what even more compact layouts could do for my comfort during long hours of work and play at my desk, so I was intrigued by the ROG Falchion. This gaming keyboard's 65% layout saves even more space than a TKL, all without sacrificing the control and convenience of dedicated arrow keys. That irresistible combination actually spurred me to pick up a Falchion for myself, sight unseen.
From the first time I saw the Falchion's layout, I dreamed about what its extra-compact footprint could do to help me maintain a more neutral arm angle while mousing, especially during long gaming sessions. From the moment I picked it up from my doorstep, the compact box and surprisingly light weight immediately indicated that I was about to experience something far different than any desktop keyboard I'd laid fingers on before.
Compact and comfortable
After I opened the box, unsheathed the Falchion from its included travel cover, and set it on my desk, I was so shocked by how much less space it took up that I had to get out a ruler and put some measurements to what I was seeing. Some quick math told me that I'd just saved 15 whole square inches (97 square centimeters) compared to the already trim footprint of my prior favorite. I then centered the Falchion relative to my monitor and did some further measuring to find out just how much motion this board would save for my right arm as I moved between typing and mousing.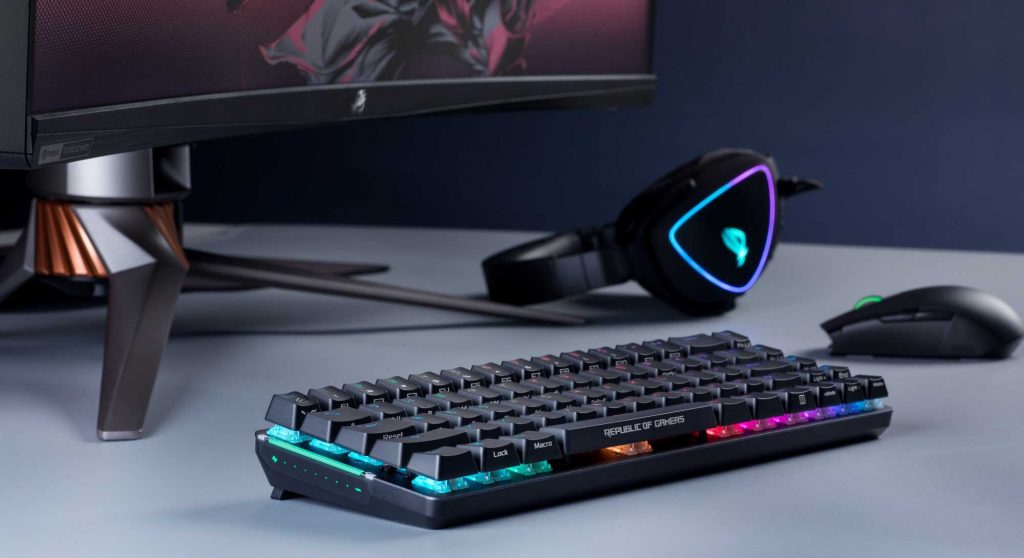 Spoilers: a lot. My measurements showed that I was only reaching about 5.5″ to the right to grab my mouse from its resting position with the Falchion in action, compared to over 8″ with the TKL board in the same spot. As I expected, grabbing the mouse this way also meant that my arm was moving into a neutral position in its lateral arc of motion, compared to the outward cant that the TKL board required. A traditional 104-key board in the same position would require even more arm movement and an even more oblique angle.
As a result, the Falchion lets me grab my mouse faster and more comfortably than larger keyboards do, whether I'm deep in a game, editing photos or videos, or just writing and browsing the web. I probably reach for my mouse many dozens—if not hundreds—of times during the day, so the effort saved this way really adds up to less stress on my joints and soft tissues. When it's time to game, I can easily move the compact Falchion wherever I want it on my desktop to ensure that both my left hand and my mousing arm remain in the neutral sweet spot of comfort as much as possible.
Configure for optimal control
An ultra-compact keyboard necessarily means less room for dedicated controls compared to a larger deck, but I appreciate how our engineers used the 65% footprint to carefully balance which keys received dedicated spots versus which ones moved into the Fn layer. Since I use the arrow block to navigate text all the time (as I imagine many other typists and programmers do), the dedicated arrow keys on the Falchion are a huge advantage compared to 60% boards. The arrow keys do sit in a more laptop-like position on the Falchion than they do on traditional desktop boards, but I was quickly able to modify my muscle memory to match.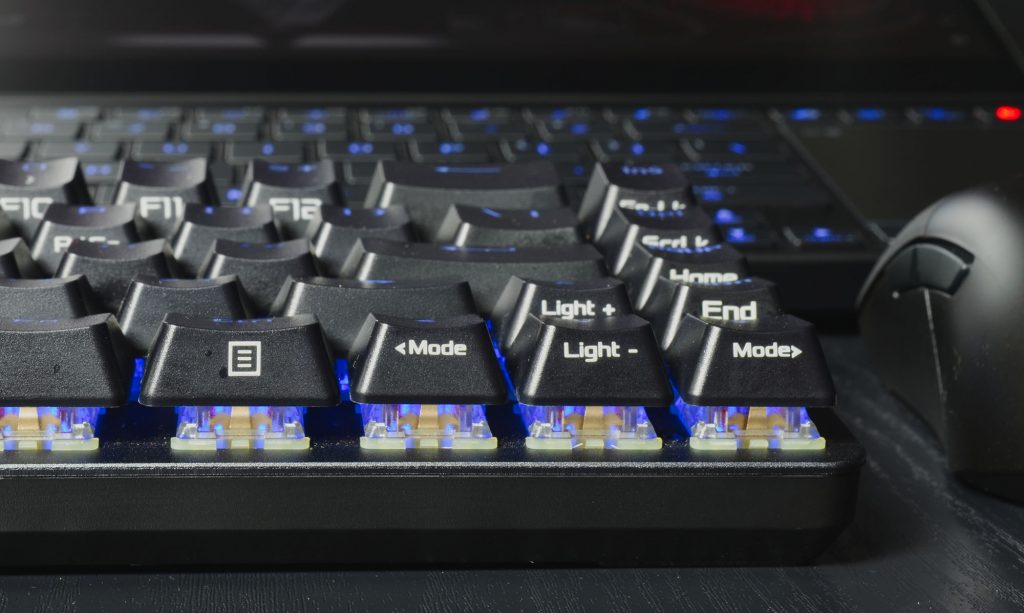 The Falchion's media controls, F1 through F12 keys, and other less commonly used inputs are only a Fn combo away, and they live in logical places. Print Screen, for example, lives on the P key under the pinky, so it was easy for me to create that association in memory. And if you ever need constant access to F1-F12, the Falchion's dedicated Fn Lock control gives you that convenience on demand. Because I commonly use the Home and End keys in my writing, I dove into the Armoury Crate utility to dedicate the Ins and Del keys to those functions instead. Between its remappability and macro programming features, the Falchion can easily adapt to my unique demands as a gamer and writer.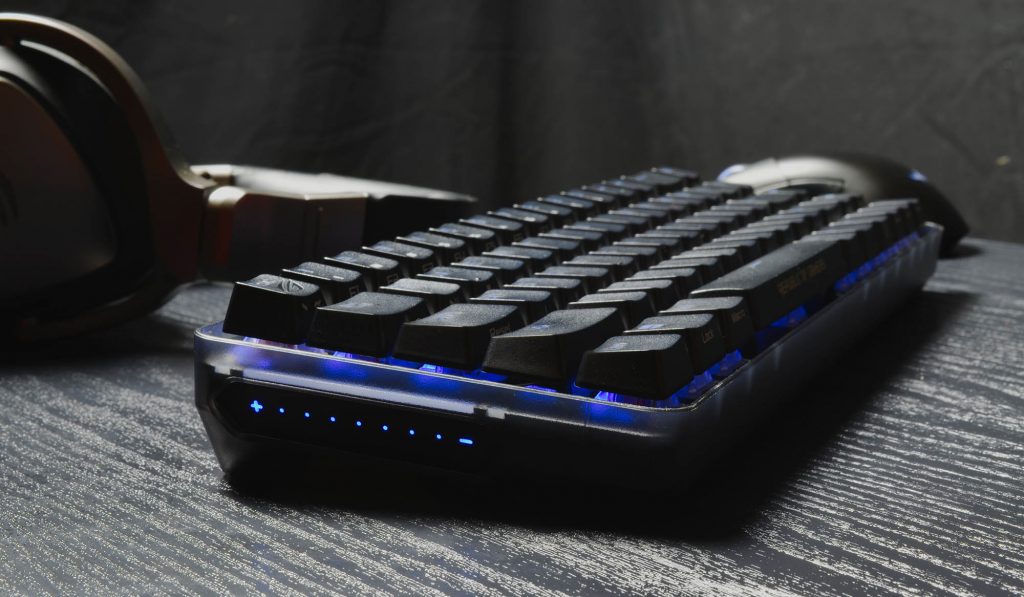 The Falchion's control options don't end with the keys atop its alloy base plate. To make use of every available square millimeter, our engineers added a touch-sensitive strip to the left edge of the case. By default, this strip controls your system's volume, but it can be reassigned to several other actions via Armoury Crate if you prefer. The multifunction LED light bar above the touch strip also adds a handy and nifty touch to the Falchion's appearance. By default, this light bar displays the amount of battery charge remaining, but when I ran my finger along the touch strip, I discovered that single white LED followed my fingertip to confirm that my input was being registered. Slick.
Switch it up
I was also thrilled to get my fingers on the Falchion's luxe PBT keycaps. I specifically seek out this keycap material on any new keyboard I choose because it always feels grippy and sure under my fingertips, even as my digits get sweaty when matches run long or word counts rise.  PBT is also more wear-resistant over time, so I know from experience that the Falchion will look as fresh throughout its life as it does out of the box. I'm so enamored by PBT that I won't type on any other key cap material, and just a few minutes of typing proved that the Falchion fulfilled my lofty demands without any extra investment.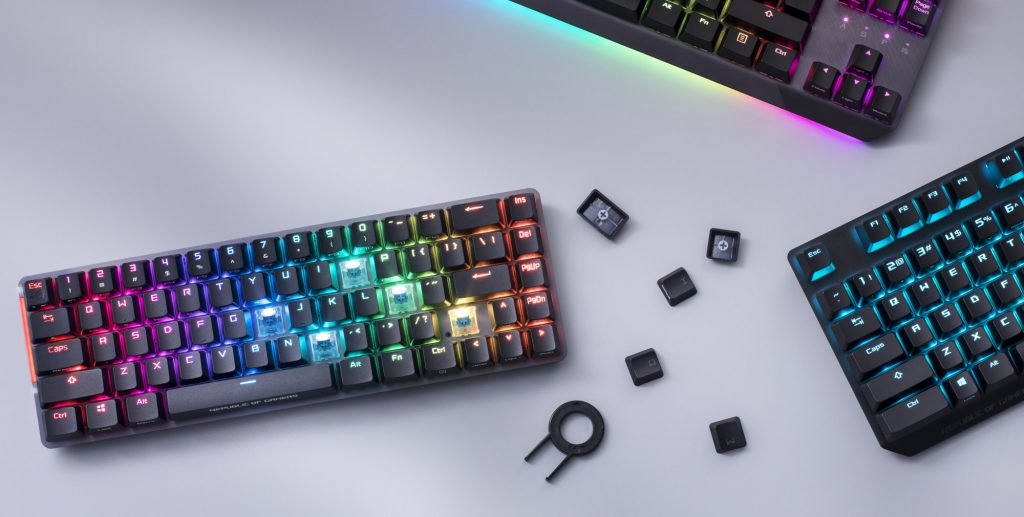 Those fancy keycaps sit atop Cherry MX Red switches, another typing favorite of mine. The light actuation force, linear stroke, and relatively quiet operation of these switches has been well established as a favorite among gamers seeking fast and reliable input, and they feel just as good as ever atop the Falchion's alloy top plate. Since the Falchion uses Cherry MX RGB switch, each key also has a configurable RGB LED underneath that can be freely tuned to taste in Armoury Crate. In fact, the Falchion is the first wireless keyboard to support Aura Sync, so it was a snap to immediately add its distinctiveness to the rest of my Aura RGB LED lighting scheme.
Unplug, declutter, and go
With all those features crammed into its compact frame, it might be hard to believe that the Falchion has more tricks up its sleeve, but it does indeed. This board connects wirelessly for less desktop clutter and easy on-the-go connectivity. It uses a low-latency 2.4GHz link powered by a tiny USB transceiver, and that unit can slip into a magnetic slot on the front edge of the board whenever I want to take it along on my travels. Whether I used the included Type-A to Type-C USB cable or the wireless link, the responsiveness of the Falchion's inputs felt equally rock-solid and instantaneous.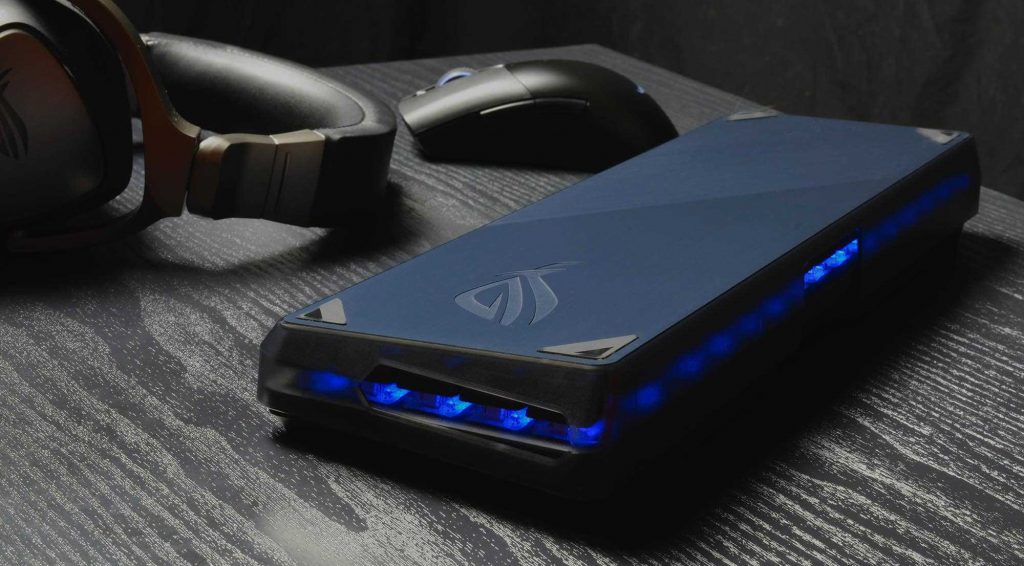 Thanks to its wireless connectivity and light weight, some users might even want to take this keyboard on the go. To keep the board protected in transit, we include a travel cover that slips over the keys while the Falchion is in a bag. Thanks to a durable polycarbonate construction that blends a smoked translucent shell with a contrasting brushed panel on the base, this travel cover is every bit as stylish as the Falchion itself. The reversible cover lets you slip the Falchion inside when it's in use. That doesn't just save space on a café table or in a library. It also creates a diffused lighting effect from the RGB LEDs for passers-by who will see the board from the side. Thoughtful cutouts around the ports and touch panel make it simple to reach every one of the Falchion's key controls with the cover on, and four rubber feet on the base keep the board as planted as when it's used without the case.
The case for 65%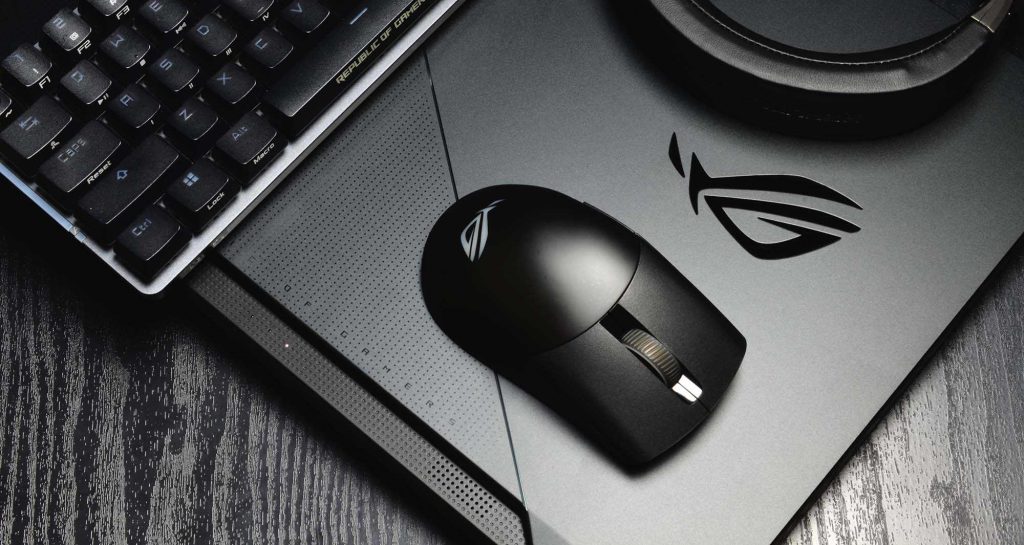 If you're curious just how compact a keyboard you can live with across gaming and typing, you should absolutely give the ROG Falchion a try. Its 65% layout makes for a more comfortable gaming experience for both your left and right hands, all without removing critical keys that you might need outside of gaming. 2.4GHz wireless connectivity, PBT keycaps, per-key RGB LED lighting, and a handy touch slider mean that you're getting all the features you expect from an ROG gaming keyboard, even in a far more compact body than the average. It's a keyboard that's truly compact without compromise.