Call it luck. Call it practice meeting opportunity. Whatever it was, I was in the right place at the right time. For three straight rounds in Counter-Strike: Global Offensive, the opposing team had rushed bomb site B, turning a long, curved hallway into a bloodbath. This time, I held back. With a P90 in burst fire mode, I crouched and waited for my opponents to traverse the hallway and push into the bomb site. One, two, and then three terrorists rounded the corner. Three quick bursts of lethal firepower later, my team had an advantage that snowballed into victory.
Moments like this don't happen every time I play CS:GO, but now that I'm playing on the ROG Strix G17, they happen a lot more often. Its 300Hz display takes my gameplay to the next level. It refreshes so quickly that I can react to enemy movements faster than ever before. The one-two punch of the G17's AMD Ryzen 9 5900HX processor and NVIDIA GeForce RTX 3070 GPU produces new frames so quickly that I can take full advantage of that sky-high refresh rate.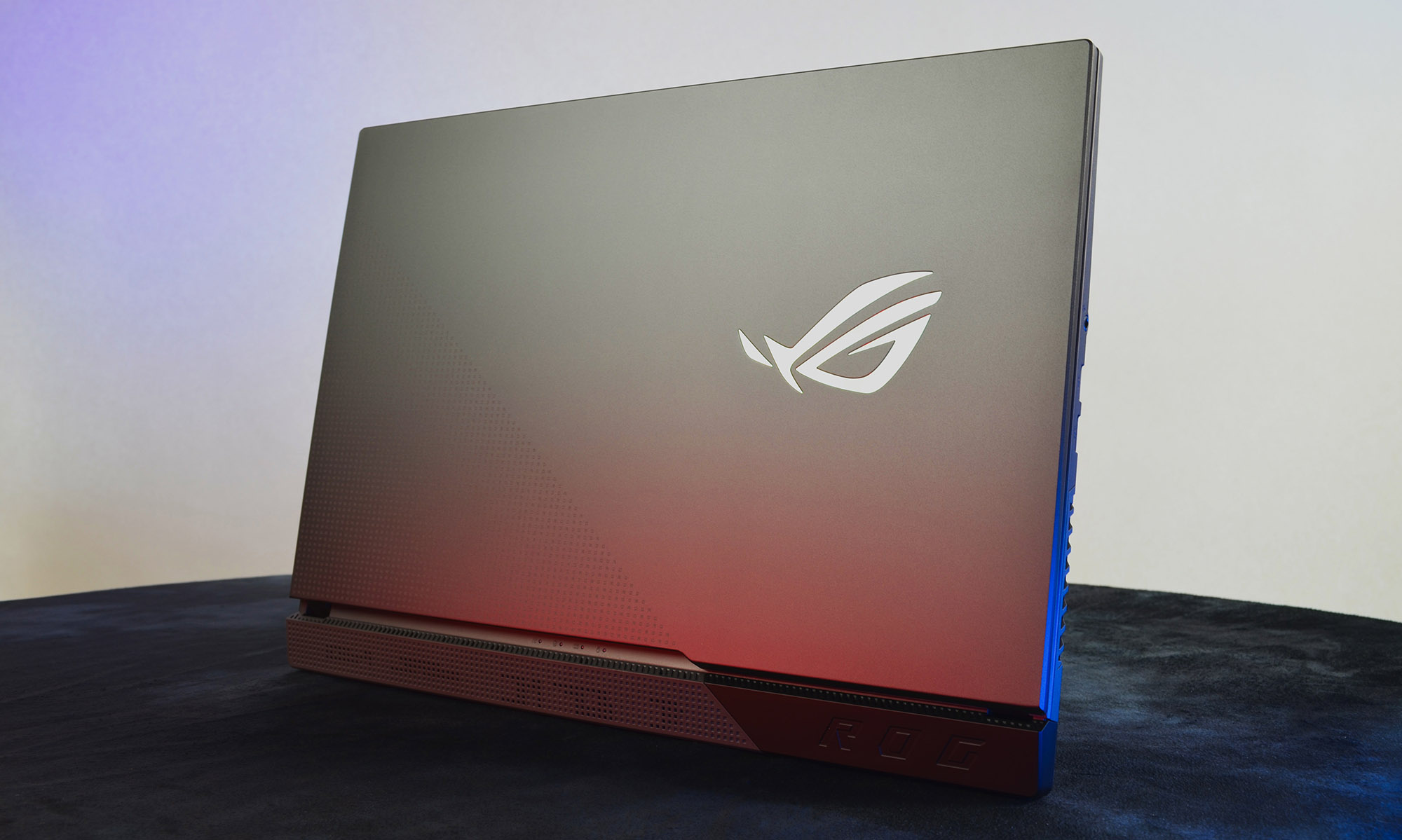 That's just scratching the surface of what the G17 offers. Its spacious 17" screen immerses me in games and media when I'm at play, and it makes for effortless multitasking when I need to knuckle down on my work. It's also reset my assumptions about what a 17" screen means for a laptop's size and weight. The G17 is surprisingly compact and easy to take with me.
Whether I plug in my headset or rely on the laptop's speakers, I'm treated with clear, detailed audio that perfectly complements the game or video I'm enjoying. New Arc Flow fans, liquid metal thermal compound, and heatsinks bristling with ultra-thin fins keep the laptop's skin cool under my fingertips, and they do so without producing distracting noise levels. What's more, they keep the vital components inside cool over time so that I enjoy consistently high FPS in games.
Inside and out, the ROG Strix G17 gives me the tools I need to stay in the winner's circle, and it's priced to bring ROG style and power to gamers everywhere. Read on for a close look at everything it has to offer.
Big screen, still travels
I've gamed on laptops of all shapes and sizes, but there's something special about one equipped with a big 17" screen. When I get up close and personal with the ROG Strix G17, that wide, bright display immediately pulls me in and immerses me in the game.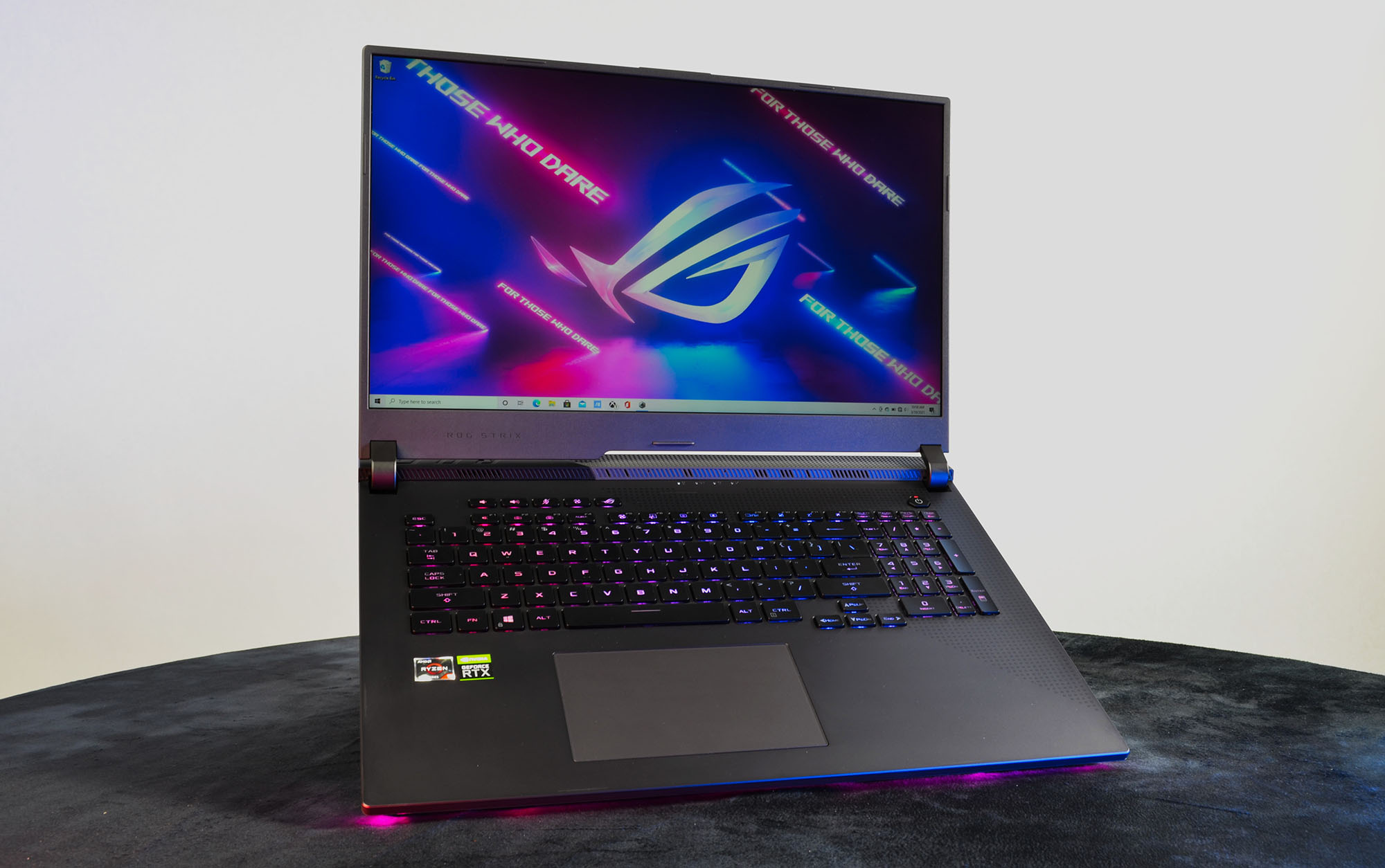 The G17 might have a big display, but this laptop is no chonker. We took last year's design to the gym. The result of that workout regimen is a muscular chassis that's 5% smaller than last year's model. Narrow display bezels mean that the G17's footprint is only a bit larger than the display panel itself. It's no trouble at all to stow the G17 in a backpack and take on a trip or over to a friend's house.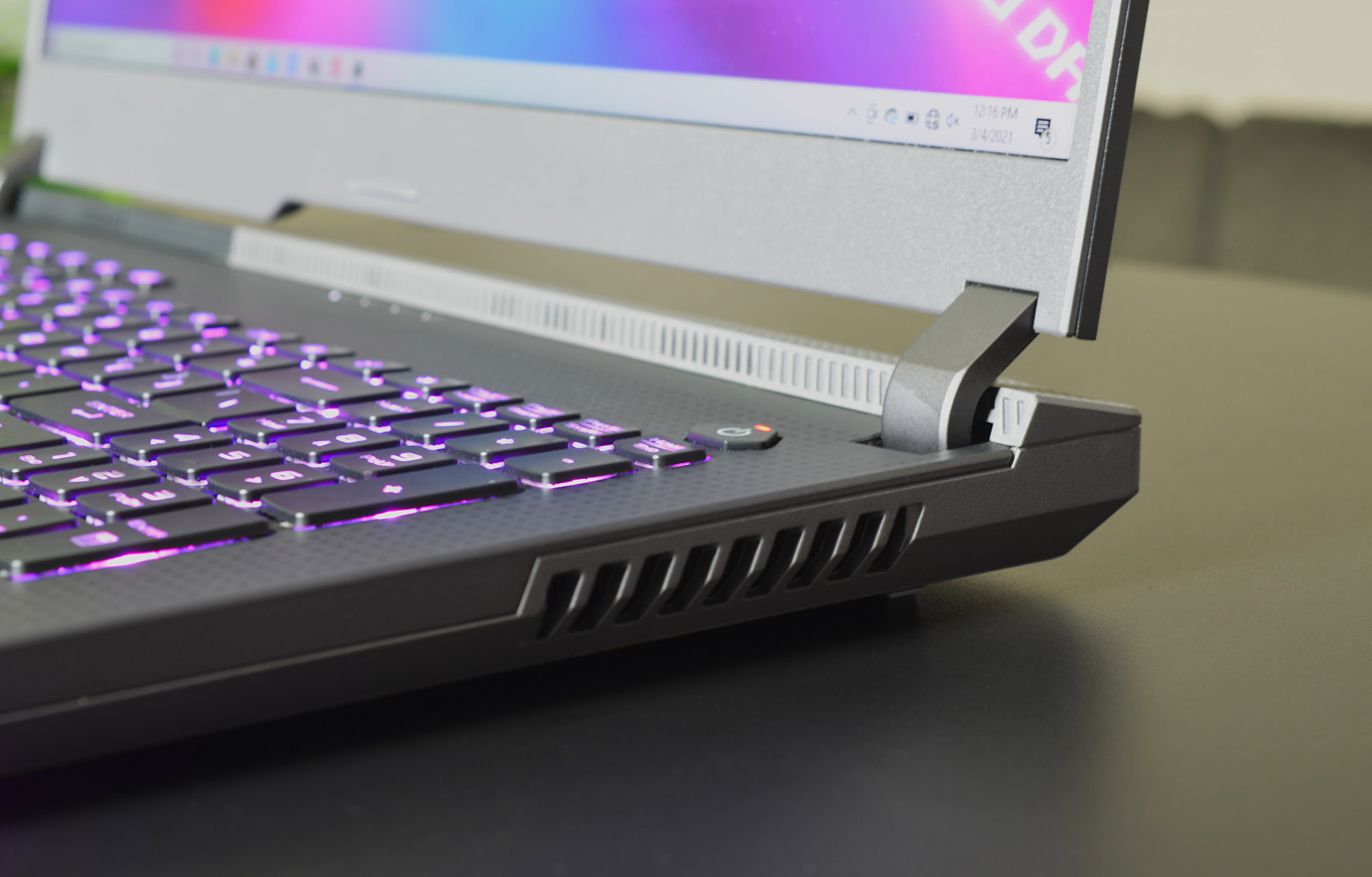 The Strix G series gets a bold new look to go with its ripped physique. The lid rises on a pair of sturdy offset hinges. An asymmetrical cutout underneath the lid opens up extra room for the vents at the rear of the system and gives the laptop a distinctive look. A reflective ROG logo glints from the lid, while a dot matrix-inspired pattern provides a subtle textural contrast across part of the outer surface. There's bold RGB LED lighting that I can synchronize with the rest of my Aura Sync gear, too. In addition to per-key backlighting on the keyboard, a stunning wraparound light bar casts a vibrant glow underneath the front and side edges of the laptop.
We took advantage of every square inch offered by the G17's 17" chassis to give gamers a full-size desktop-style keyboard with a numpad. Thanks to the generous spacing between the keys, my fingers feel relaxed and natural as I game and type, and I don't have to adjust my muscle memory as I bounce back and forth between my desktop PC's keyboard and the G17. Every key is just where my fingers expect it to be. The keyboard is complemented by an extra-wide touchpad. It lets me scroll across more of the screen without lifting my finger, a creature comfort that I appreciate when I'm just waking up and drinking a cup of coffee while I catch up on a few websites.
The G17 has a big battery to go with its big screen, and it delivers surprising life away from the outlet. The 90Wh cell inside is good for a full day. I recently needed to spend a day away from my desk, so I unplugged the G17 around 10 AM. For the next ten hours, I used the laptop for work, music, and meetings, taking only infrequent breaks. When I plugged it back in at 9:30pm to play For the King with some friends, the battery still had 12% left in the tank. That's battery life I've never seen from any other gaming laptop (save for our own Zephyrus G14). For a 17" beast like the Strix G17, it's downright unprecedented, and it means I can treat this one system as my only laptop.
The raw speed for any race
The 17" display in the ROG Strix G17 isn't just big. It's fast, too. Its 300Hz refresh rate lets it display new frames a full five times faster than traditional 60Hz displays.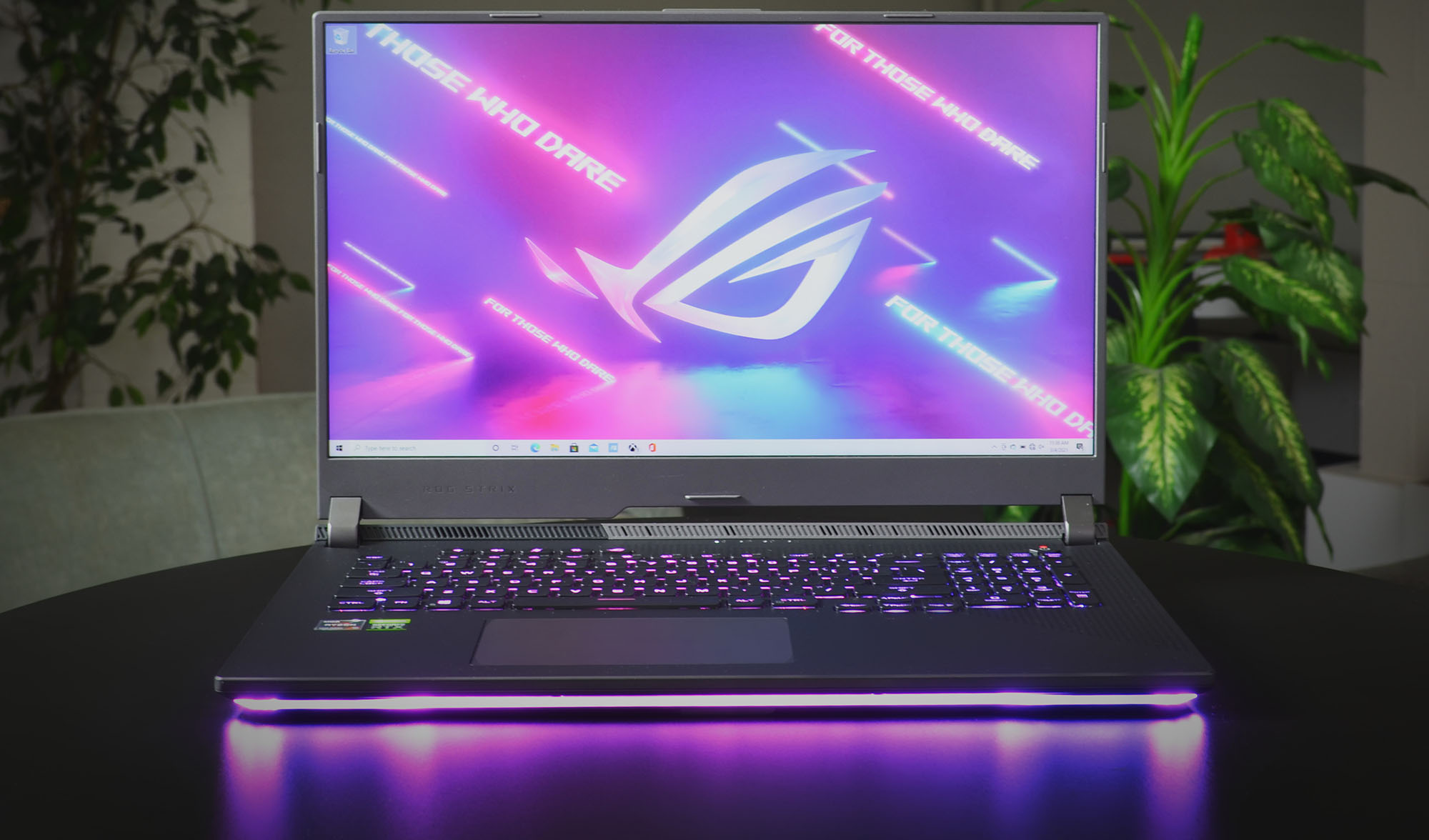 The fluid, up-to-date animation from this panel is an unquestionable asset for today's fast-paced competitive games. The G17's display not only refreshes at a high rate. It also has an ultra-low 3ms response time. This characteristic allows each pixel to rapidly transition to a new color so that the on-screen image is never blurry, even in a scene with fast-moving objects.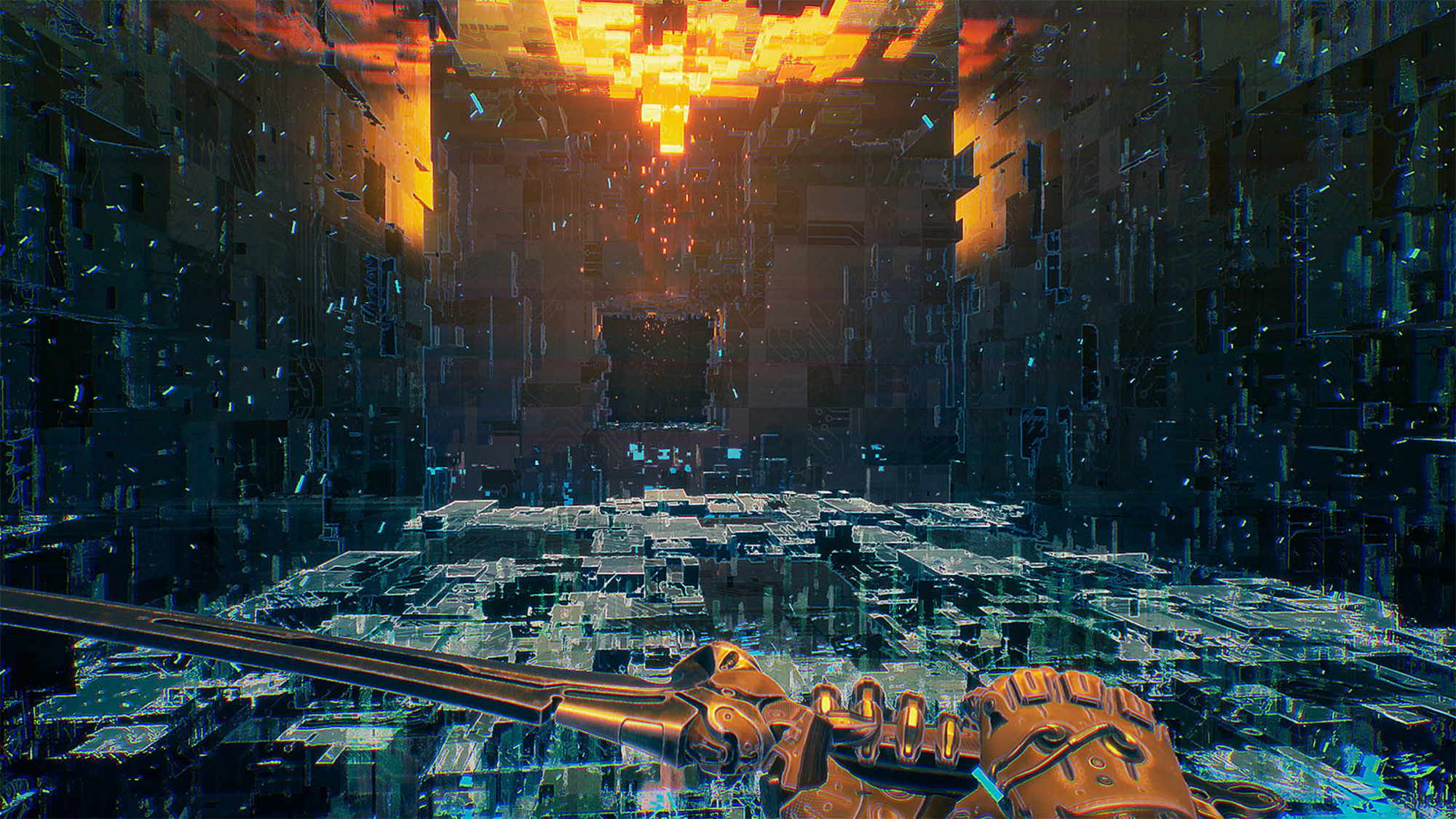 Image source: Gamesplanet
The new generation of NVIDIA GPUs and AMD CPUs takes the already respectable gaming prowess of last year's components and beefs it up even further. The NVIDIA GeForce RTX 3070 pushes performance forward by leaps and bounds, and the AMD Ryzen 9 5900HX is the perfect partner to keep that GPU performing at a high level. I took this dynamic duo on a run through Ghostrunner. Spoilers: I enjoyed an extraordinary experience.
This fast-paced game pushes my reflexes to the limit, and the G17 shows me the up-to-date view of the action I need to make that next keypress or mouse click right when it's needed. A 220.9 FPS average frame rate in this title made me feel totally in control of every moment.
This game is a tightwire act above dizzying chasms that pits me against enemies that can kill in one hit. With frame rates this high and a panel that can display each frame the moment it's ready, I can time each action with uncanny accuracy. Ghostrunner is a true challenge for my skills, so it's a real thrill to pull off a complex sequence of moves and progress to the next room. The G17's hardware kept me enthralled.
Frame rates naturally vary during gameplay, so the G17's Adaptive-Sync tech plays a key role in giving me a smooth gaming experience. Adaptive-Sync matches the refresh rate of the display with the current frame rate to eliminate the distracting screen tearing that used to plague fixed-refresh displays.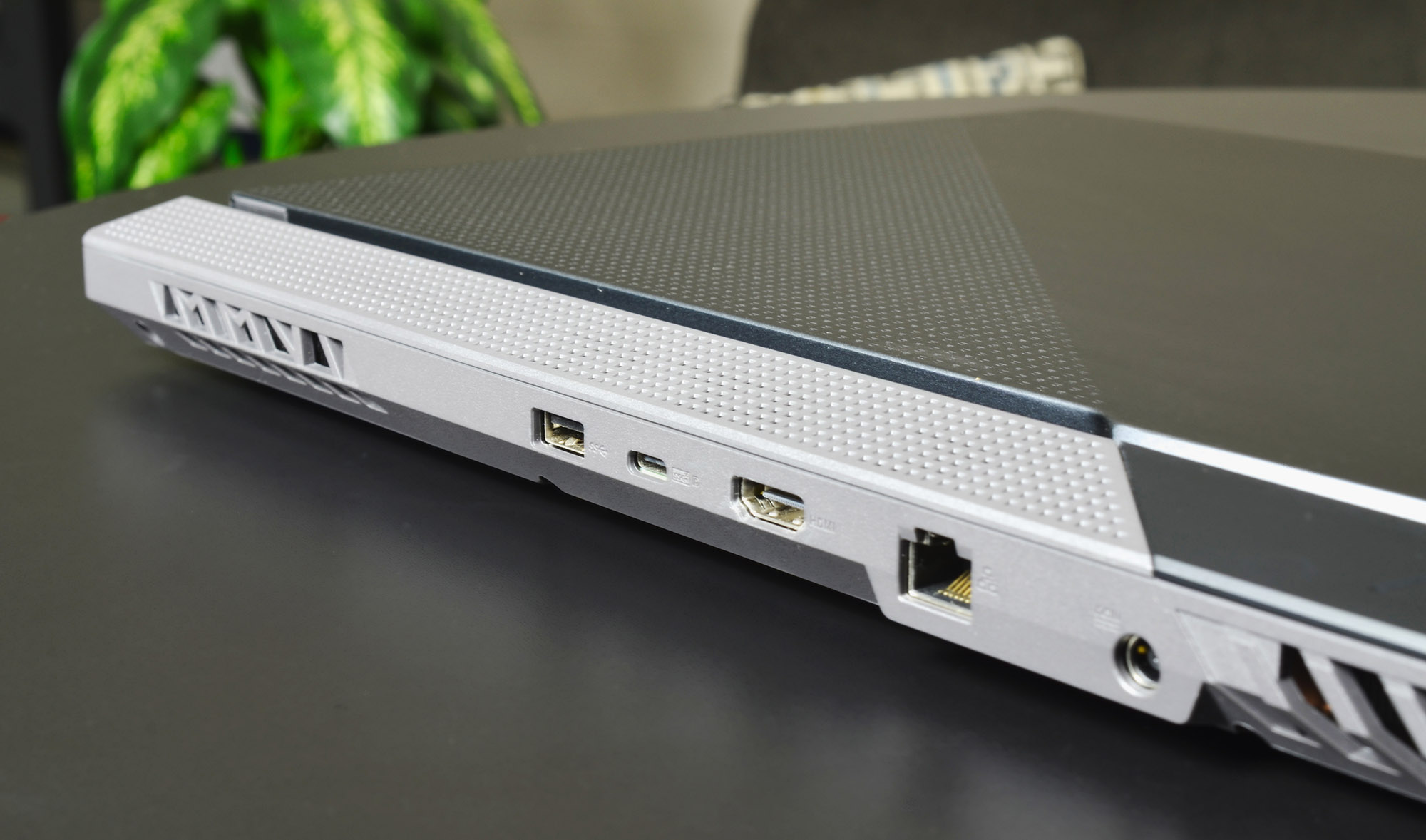 The G17's potent hardware put me in the mood for competitive games like Counter-Strike: Global Offensive, so I called in my squad and got some rounds in. In a frantic firefight, my mousing hand moves fast and far, so I appreciate that the key I/O ports are on the back of the machine. That placement hides most of my cables behind the laptop to give my desk a cleaner look, and it also lets me keep my mouse cable out of the way while I game.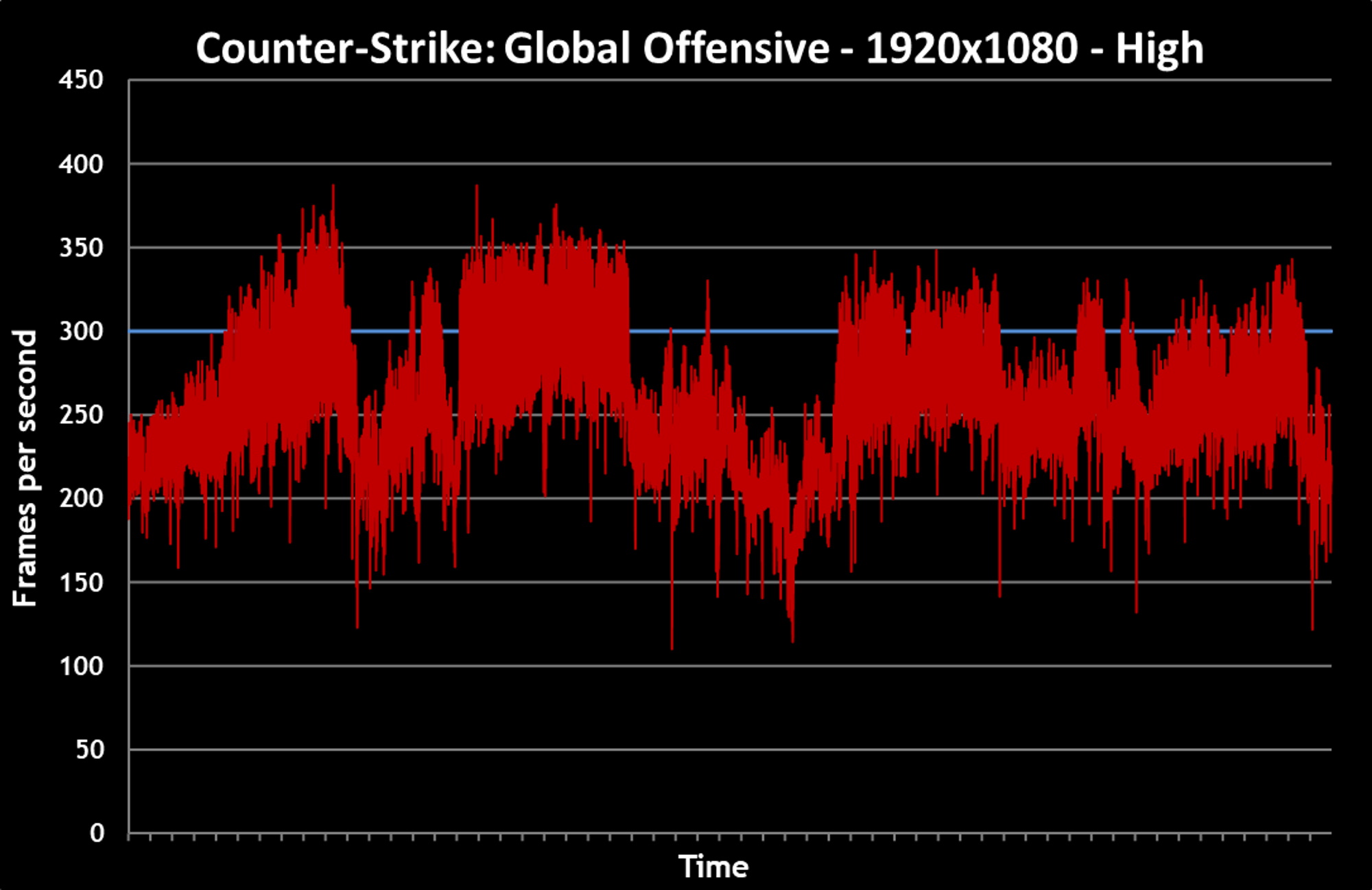 Like Ghostrunner, Counter-Strike: Global Offensive is a game of milliseconds. I could immediately feel the difference that the G17's high-refresh-rate display and potent hardware made for my accuracy and reflexes. When an opponent's head poked around a corner and landed right under my crosshair, I reacted with lethal speed. And the G17 really set me up for success in those hectic moments when my team's strategy fell apart. When I had to turn on a dime and squeeze off some shots on some enemies that had flanked me, I could clearly track them thanks to the display's low 3ms response time.
I can't let the display take all the credit for an enjoyable CS:GO experience. The audio from the G17 was equally important in giving me a competitive edge. When I put on my favorite headset, Dolby Atmos tech provided immersive, spatial sound that put me right in the action. Footsteps were distinct and clear, and I could easily pinpoint the direction of approaching enemies thanks to virtual 5.1 surround sound.
The G17 even took frustration and distraction out of my voice comms. Its Two-Way AI Noise Cancelation tech intelligently removed background noise from my microphone and the chatter of my squadmates. Crucially, it uses CPU resources rather than GPU processing, so I didn't have to sacrifice FPS for clear, distraction-free audio. As I played, all I heard was the game and the voices of my teammates directing each other toward our common goal.
Unleashing a beast on cutting-edge games
Exciting new graphics technologies are revolutionizing gaming right now. NVIDIA's latest 30-series GPUs unlock game-changing features like ray tracing and DLSS. With the ROG Strix G17 on my desk, I was able to load up the most demanding new games and enjoy immersive, state-of-the-art graphics at smooth frame rates.
Launched just this year, The Medium puts a hurt on graphics cards and heart rates alike. This tense psychological thriller puts you in the shoes of Marianne, a young woman who can speak with the dead. As she investigates an abandoned resort, the site of unspeakable crimes in the distant past, she uses her uncanny ability to pass between physical and spiritual worlds to uncover the dark mysteries of her powers and of the evil that awaits her.
Like the classic Silent Hill and Resident Evil games, The Medium uses forced-perspective third-person views to dial up the tension and give the game a cinematic feel. Unlike those older games, The Medium realistically illuminates its world with ray-traced lighting and reflections. The effect is stunning and immersive, especially when Marianne experiences the physical and spiritual worlds simultaneously. In those cases, I get to see both realities rendered on my display at once.
Ray tracing is a standout tech for The Medium. Once, as I was guiding Marianne past a table loaded with decaying junk, I was mesmerized by the way her flashlight painted looming shadows on the opposite wall. In a first-person game, I wouldn't have seen those shadows as clearly, but this game's menacing camera angle made them lifelike and atmospheric.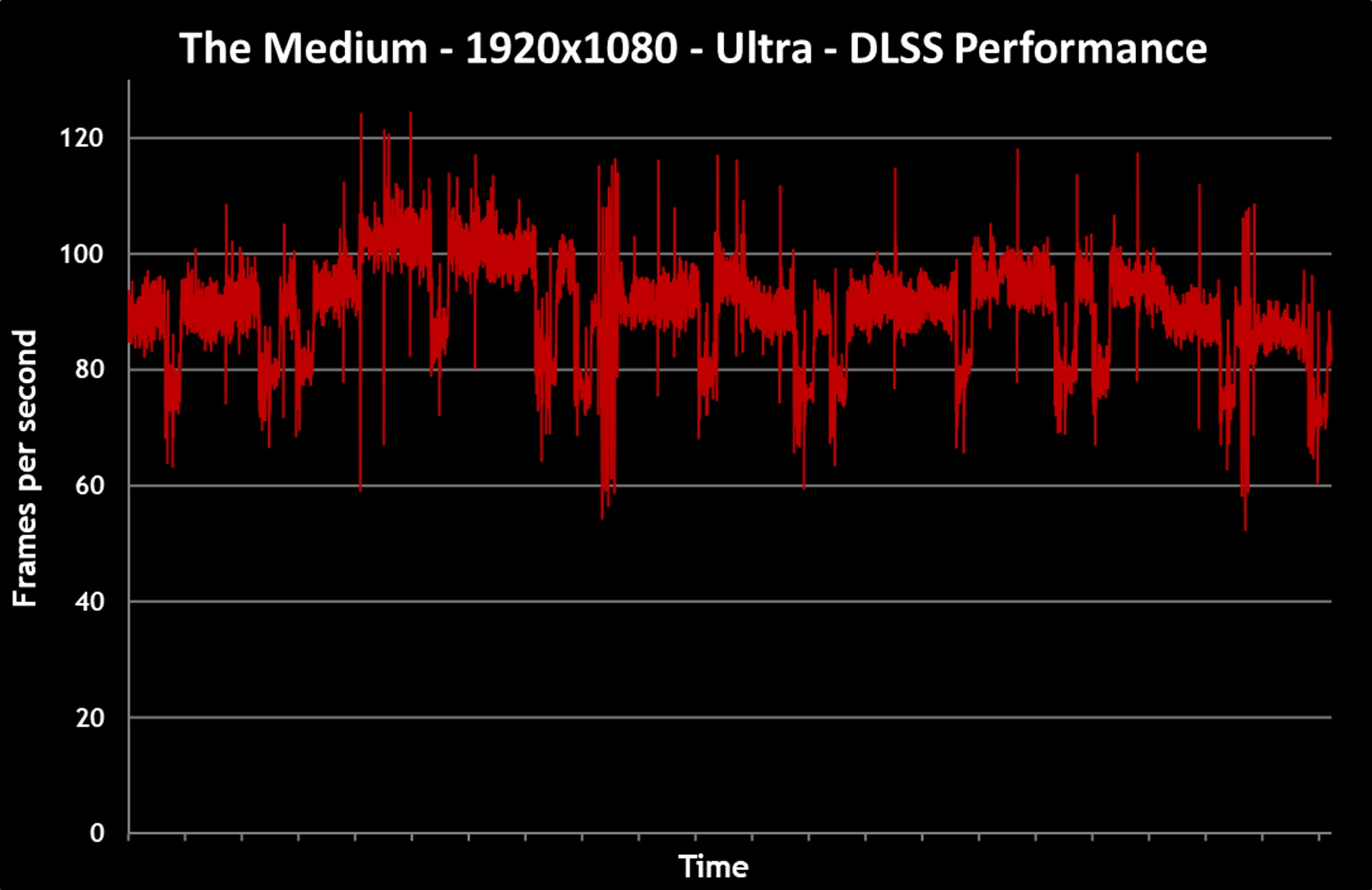 Depicting not just one but two ray-traced scenes is a worthy challenge for any GPU, but the GeForce RTX 3070 in the G17 proved up to the task. It can draw up to 130W under Dynamic Boost, so I get every ounce of horsepower that it can muster. The resulting 88 FPS average kept me glued to the screen, and Adaptive-Sync tech ensured that the game both looked clear and felt responsive. The tense, atmospheric environment of The Medium kept me anxiously scanning the shadows, and the G17 rendered those shadows with uncanny realism.
For the most immersive audio experience in a horror game, I really should have put on my headset. But The Medium's psychological horror already had me keyed up, so I opted to use the G17's speakers instead. Unfortunately for me, that didn't make the game feel any less tense. The G17's speakers produce outsized audio that's distortion-free even at high volumes. The punchy, full-bodied sound has real heft to the low end, so the insane muttering of the Maw, an implacable foe that follows Marianne between the spiritual and physical worlds, still filled me with fear. Other gaming laptops I've used have to spin up their fans so much that important aural information is lost in the din, but the G17's cooling system is so quiet that The Medium's atmosphere can immerse me even when I'm not wearing a headset.
The Medium is far from the only recent title to push the visual boundaries. The long-awaited Cyberpunk 2077 boasts a suite of next-gen technologies that make exploring the labyrinthine Night City an unforgettable experience.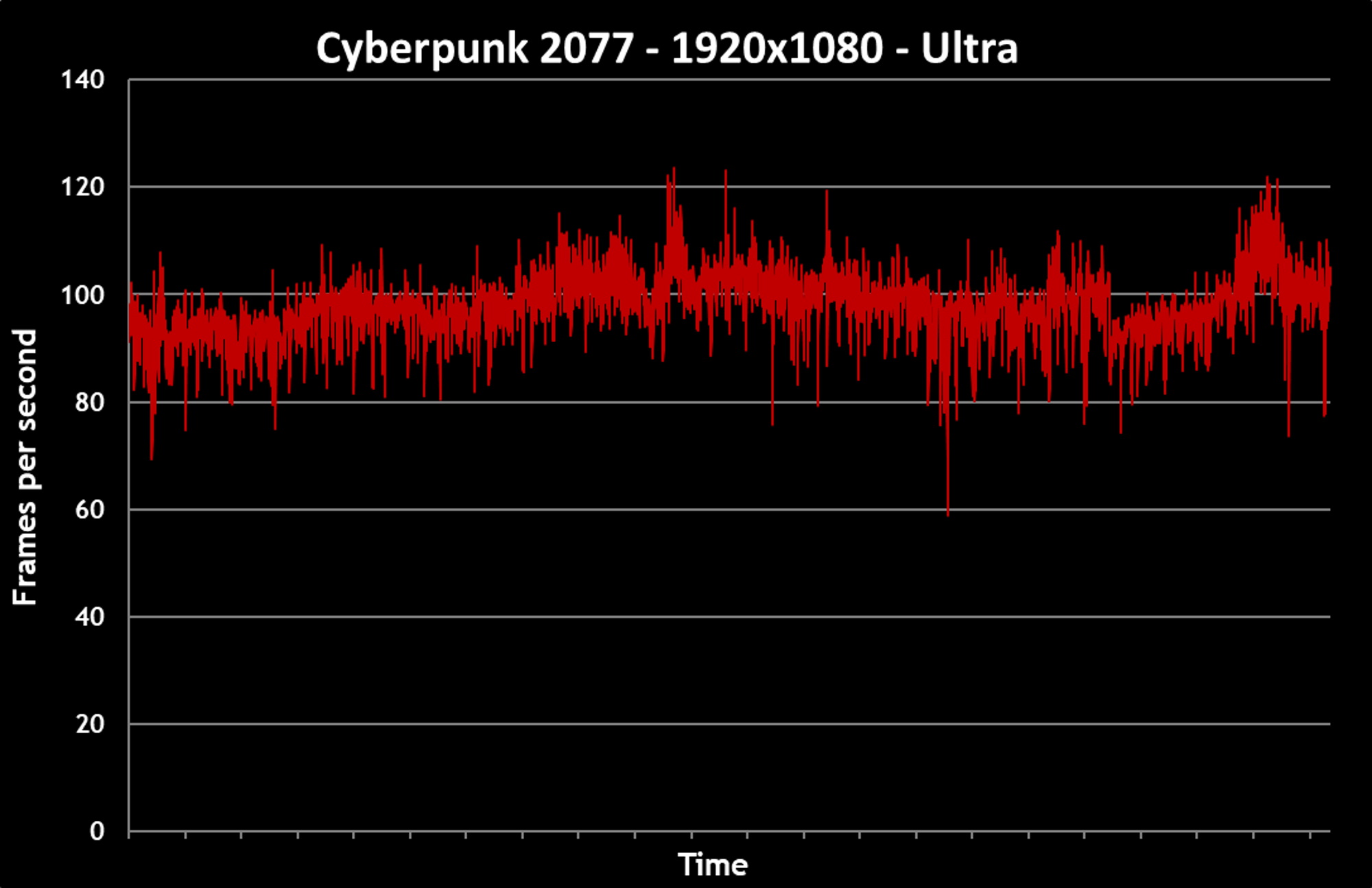 At the game's Ultra preset, the G17 delivers an exceedingly smooth and fluid experience. Whenever I load up the game, I tend to just hop on my motorcycle, ride wherever the moment takes me, and explore the missions that pop up. The RTX 3070 blows away the barriers between me and the exhilarating freedom of racing down winding highways and backstreets.
With a powerful GeForce RTX 30-series laptop like the G17 at my disposal, I can choose to push visual fidelity even further in Cyberpunk 2077. This game offers a full menu of ray tracing options and NVIDIA DLSS modes to maintain high frame rates with those amazingly lifelike effects enabled. Using PC Gamer's analysis of in-game settings, I started with the Ultra Ray Tracing preset, adjusted a few settings for shadows, turned on DLSS at its Performance preset, and dialed back volumetric fog and clouds a notch. This gave me the best balance of cutting-edge graphics and smooth animation.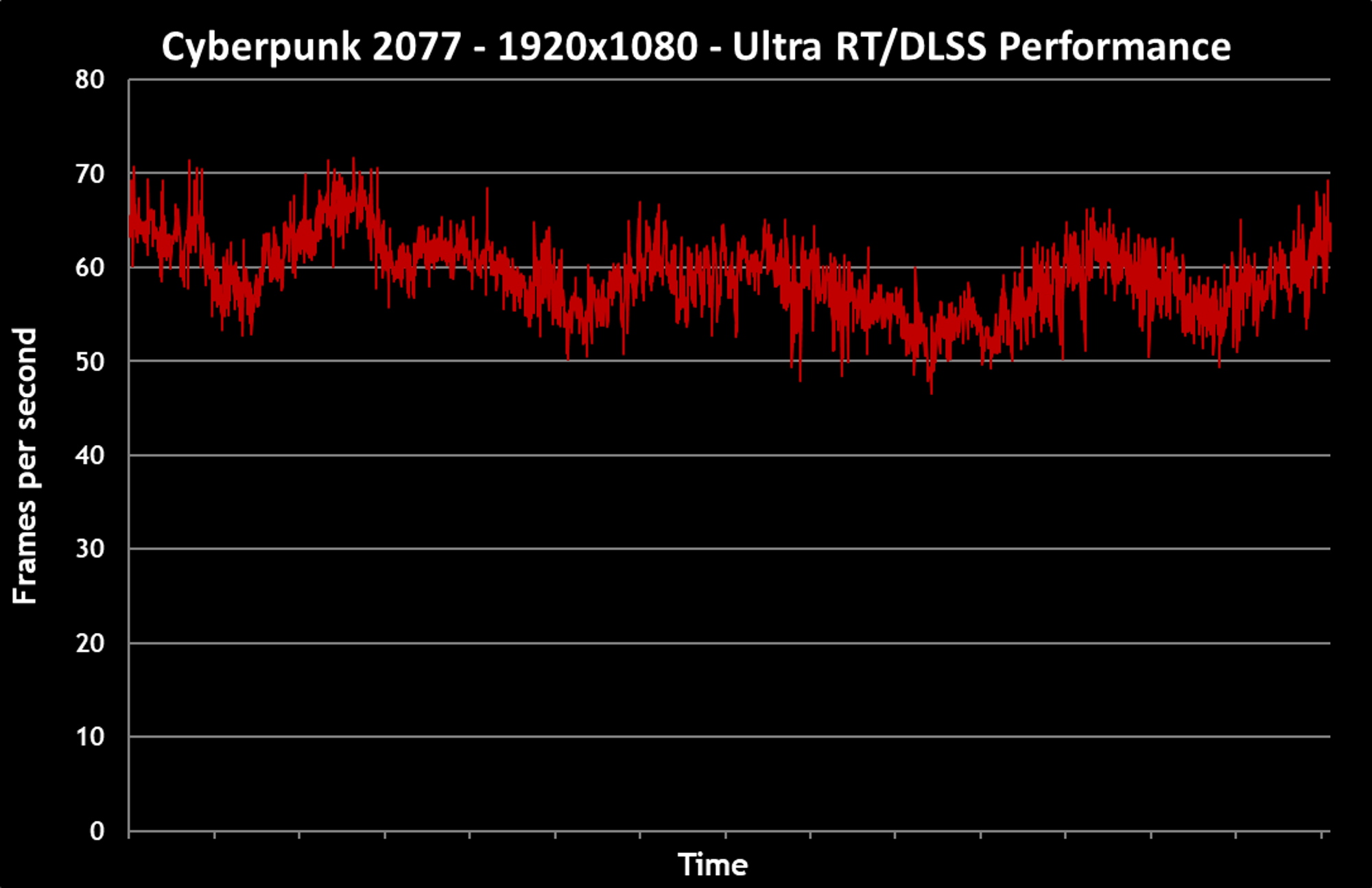 With its ray-tracing options enabled, Cyberpunk 2077 is even more immersive. I enjoyed a visual feast as reflections shimmered across wet roadways on a drizzly, hazy night. Even in busy outdoor areas, frame rates held near 60 FPS. Whether I was having a close conversation with a client at a bar, walking along crowded sidewalks underneath the blazing neon of a thousand billboards, or lost in the light and fog of an underground club, I was mesmerized by the way the realistic lighting interacted with every surface.
If I were playing on a conventional fixed-refresh-rate display with Vsync enabled, a dip below 60 FPS might be a jarring, immersion-breaking interruption. The G17's Adaptive-Sync tech makes sure that such moments aren't even a blip on my radar. I can push graphics settings to the bleeding edge, and the G17 still renders and displays each frame smoothly and seamlessly. Whether I'm chasing the highest frame rates or the highest visual fidelity, the display on the G17 gives me the smooth and responsive experience I crave.
Performance that goes the distance
In game after game, the ROG Strix G17 proved to me that it's got the brute strength for competitive titles and triple-A spectacles alike. Turns out that it's got stamina, too.
A host of technologies work together to keep the G17 cool, quiet, and swift. It begins with liquid metal thermal compound from Thermal Grizzly. We paint this compound onto the surface of the AMD Ryzen 9 5900HX using an exclusive process. This compound can dissipate the heat produced by the chip much more effectively than typical thermal paste. New Arc Flow fans quietly pull air through four high-surface-area heatsinks, while self-cleaning channels divert dust out of the chassis before it can accumulate. All told, these technologies mean that I don't have to worry about the G17's temperatures, even under the heaviest gaming loads.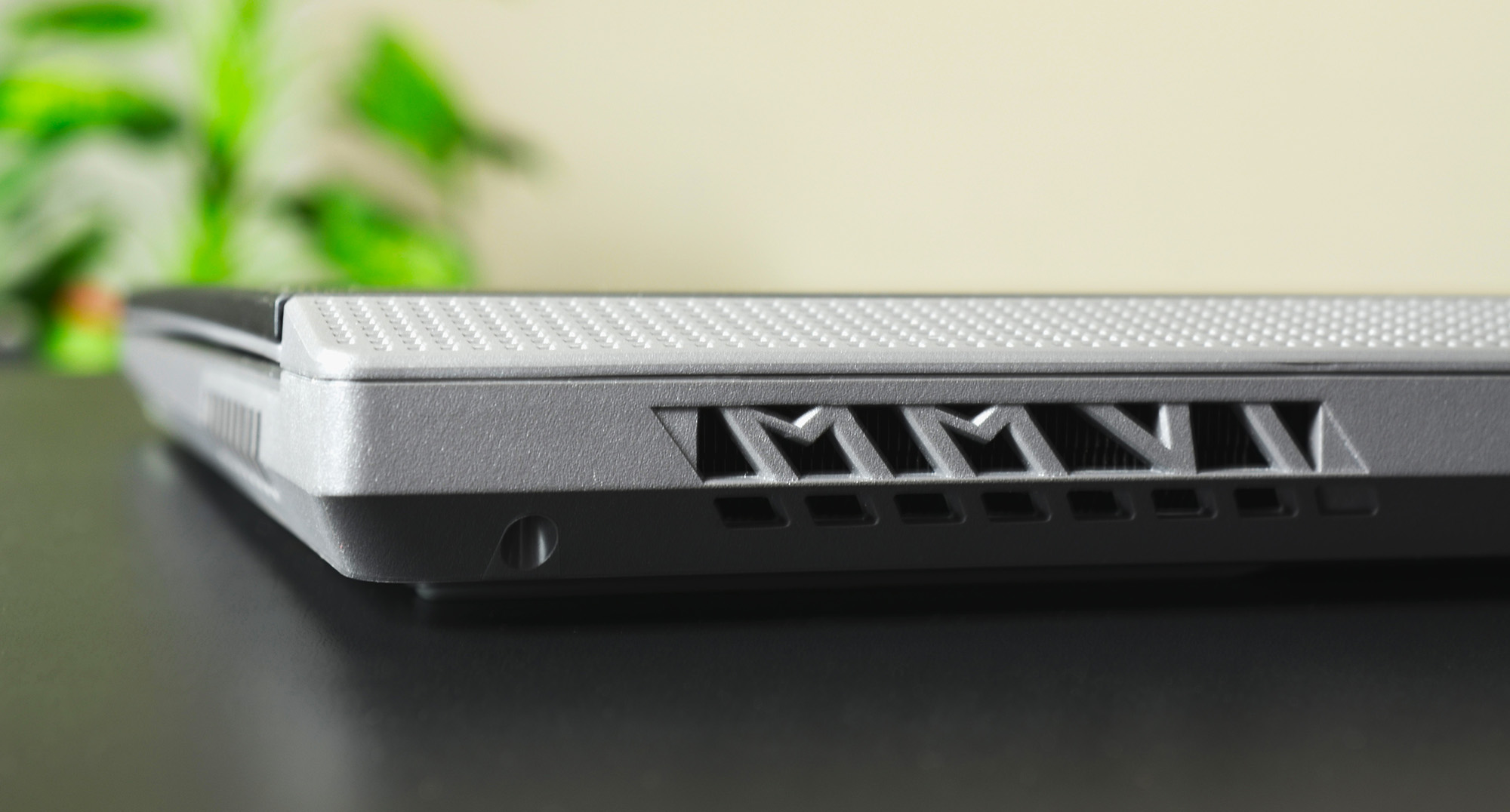 Keeping its internal components cool is just one way the Strix G17 delivers an enjoyable gaming experience. Sweaty hands can quickly trip me up on the path to victory, but CoolZone intake vents near the WASD keys ensure that the laptop's surface is always comfortable underneath my fingers. The Arc Flow fans are a treat for the ears, too. They're fully silent when the laptop's components stay below 50° C, and even under load, they scarcely make more than a gentle whoosh.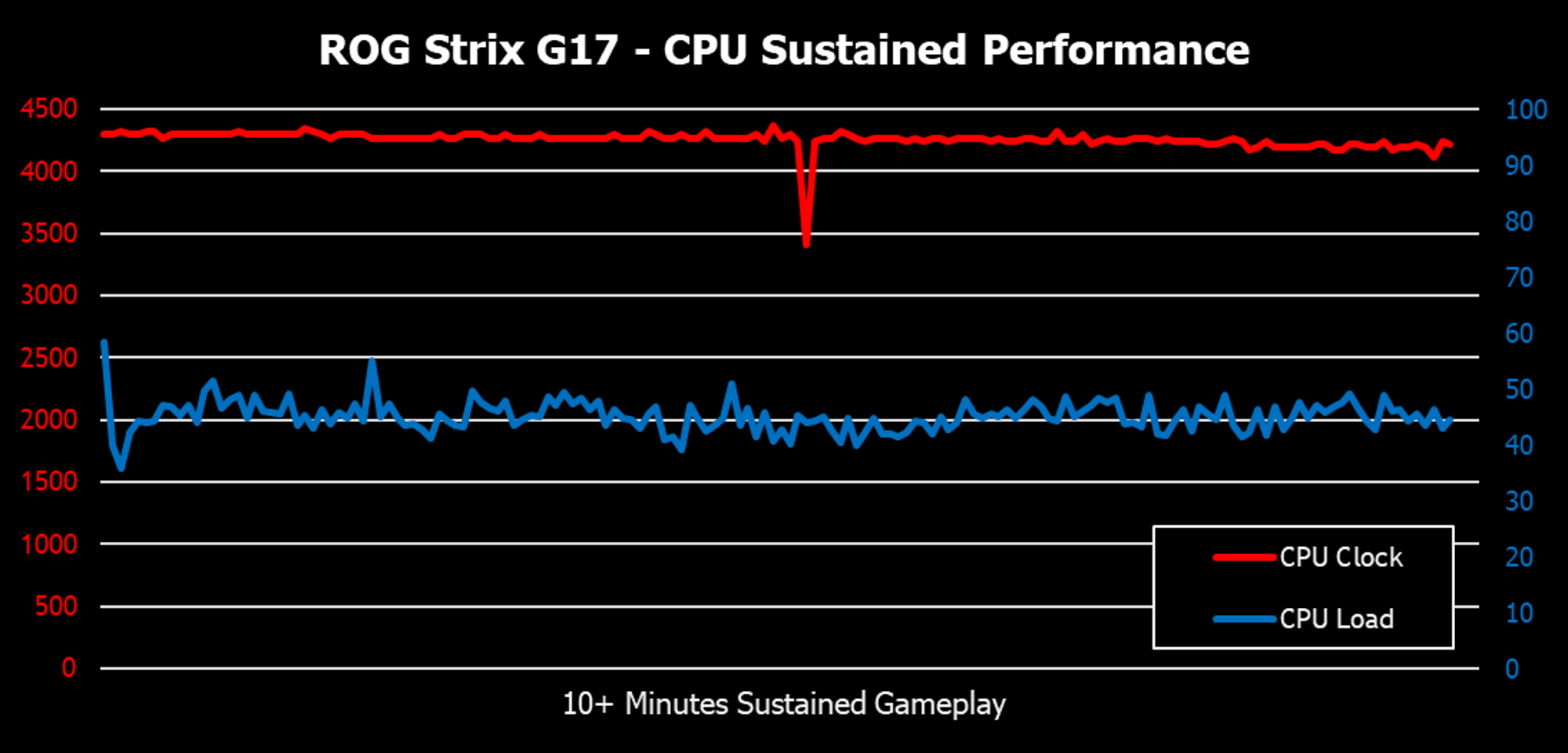 To check how the Strix G17's cooling system performs under fire, I logged CPU utilization and clock speeds for over ten minutes of sustained gameplay in Cyberpunk 2077. As you can see from the remarkable consistency of its clock rates, the G17 had no trouble keeping the Ryzen 9 5900HX at a comfortable operating temperature. Total CPU usage hovered just under 50%, a tad higher than I see in most games, but CPU clocks still remained north of 4GHz.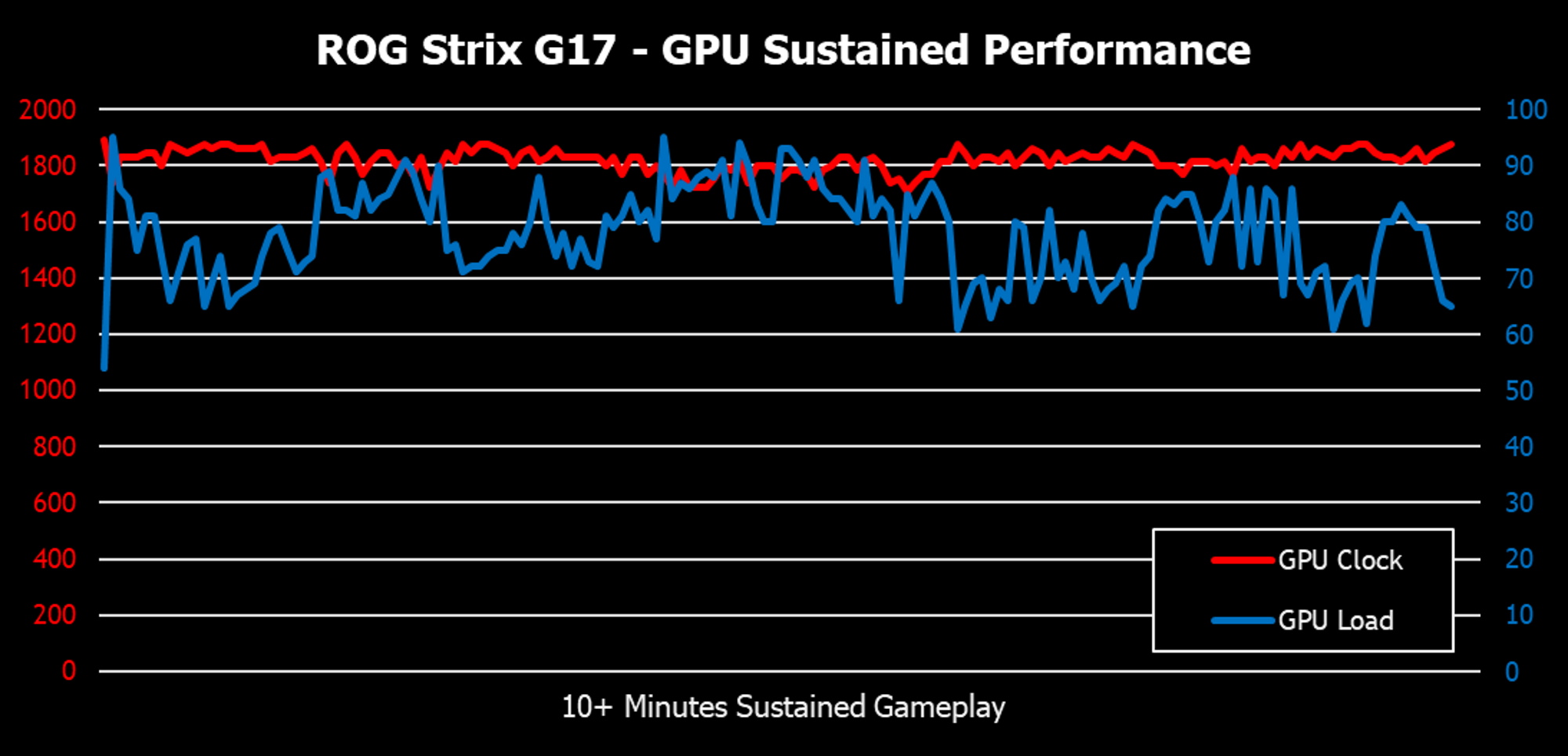 The GeForce RTX 3070's performance consistency in the same scenario was just as remarkable. As you'd expect while gaming, the GPU shouldered the heaviest load, as evidenced by its utilization over time. Yet it was able to maintain high frequencies throughout, staying above 1800MHz for most of the run. Consistent clock speeds from CPU and GPU translate to consistently high frame rates and smooth animation in games, and the Strix G17 has no trouble keeping both processors running at peak performance over time.
For those situations when I need either silent operation or unbridled processing power, the ROG Strix G17 lets me choose the settings I need with one click through the Armoury Crate app. By selecting an Operating Mode, I can strike the right balance of system noise and performance for the moment. When I use the G17 at a library or coffee shop, Silent Mode makes sure that I'm not a distraction to the people around me. Performance Mode is my standby for gaming. It gives me the GPU and CPU resources I need while maintaining unobtrusive noise levels. Turbo mode lets the CPU stretch its legs and run, but even there, noise levels stay low enough that I don't notice the fans when I'm wearing a headset.
The G17 doesn't even require me to manually switch between the different Operating Modes. Using Scenario Profiles, I can have the G17 apply my preferred settings whenever I launch an app from a list that I designate. I've used Scenario Profiles to automate a wide range of settings for all the different things I use my laptops for. Check out our full coverage for all the details.
Ripped looks, muscular performance
Fast, fluid animation when I'm fighting for victory. Lush, cutting-edge visuals in the latest games. Immersive, spatial audio that puts me in the middle of the action. No matter what I'm in the mood to play, the ROG Strix G17 draws me in. From its blazing-fast 300Hz display to its full-throttle NVIDIA GeForce RTX 3070, it's equipped to give me a competitive edge.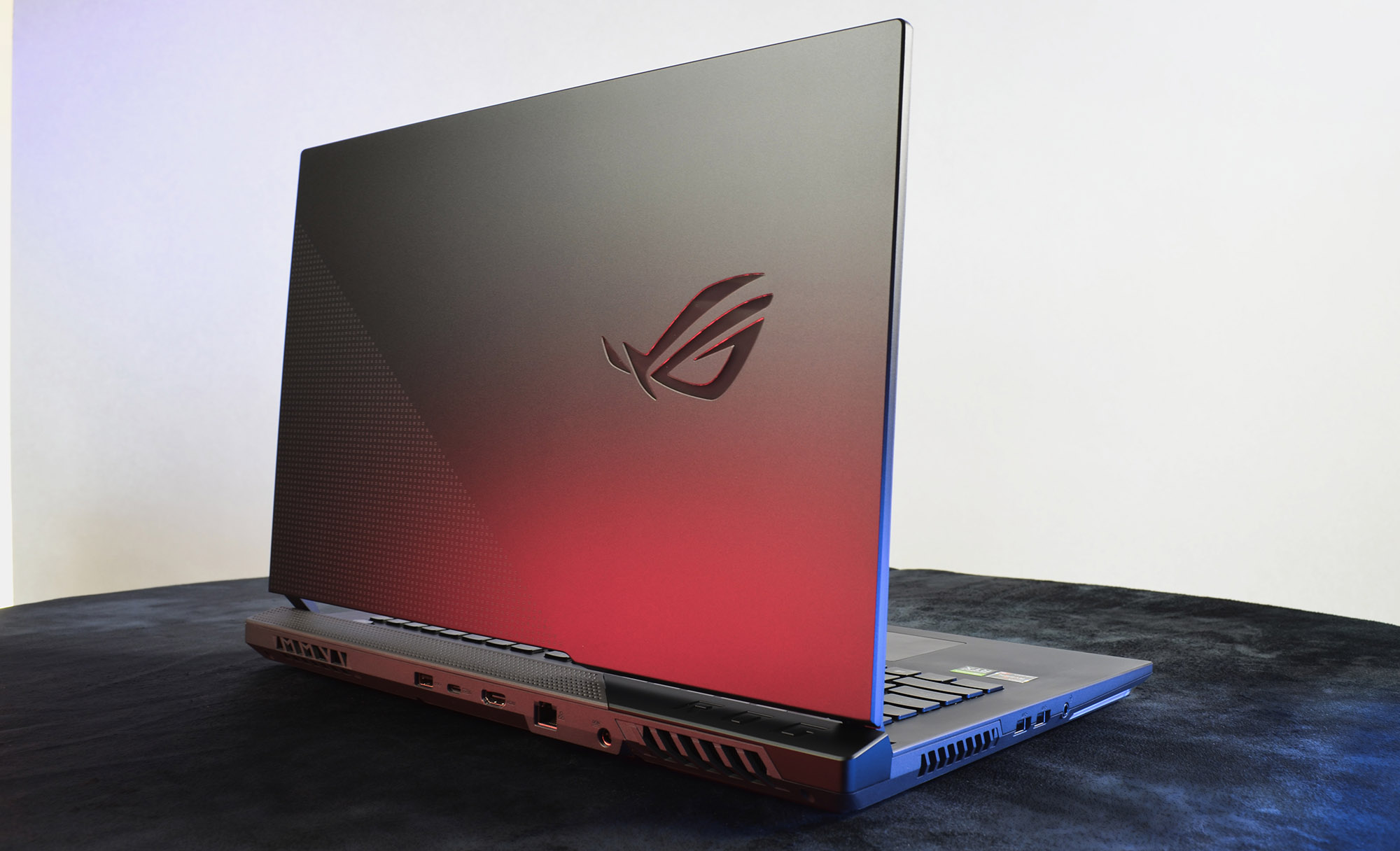 That elite performance comes in a rugged chassis with an expansive 17" display. With a bold reflective ROG logo on the lid, angular good looks, and vivid RGB LEDs, this laptop turns heads wherever I take it. And since it has such a large, long-lasting battery, I really can take it anywhere and count on it to go the distance.
With its thoughtfully placed ports, full-sized keyboard, and exceptional cooling system, the G17 offers the complete package of features I expect from such a powerful gaming machine. Race to the front of the pack with a ROG Strix G17 of your own.