With gaming laptops, power isn't just about fast hardware. It's also about impact, versatility, and everyday convenience. How much can a single device empower you—whether you're gaming, creating, or just kicking back on the couch? The answer lies in the all-new ROG Flow X13.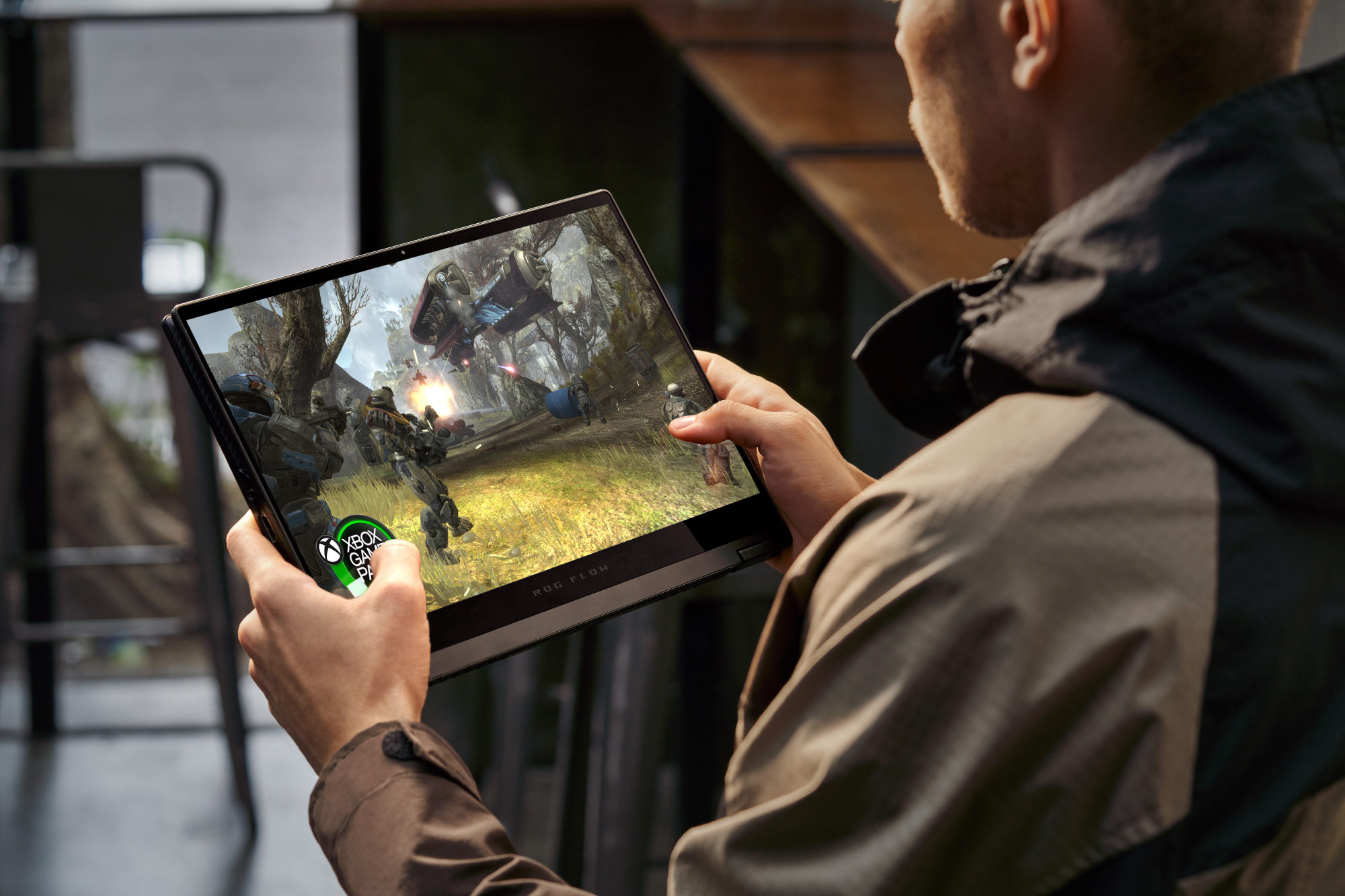 Our first gaming 2-in-1 packs big utility in a compact package. It delivers serious power for everyday gaming and multitasking with up to an eight-core AMD Ryzen™ 9 5980HS CPU and dedicated GeForce® GTX™ 1650 GPU. The 360° hinge maximizes touchscreen viewing and interaction, quickly flipping from laptop mode into convenient positions for gaming, drawing, and presenting. Choose between two 16:10 displays: a high-refresh 120Hz panel that makes gameplay smoother or an Ultra HD 4K option with richer detail for creativity and entertainment. 
The Flow X13 travels easily in an ultraslim 13" body that's just 15.8mm thin and 1.3kg (2.9lb). It's so streamlined and energy-efficient that it needs only a lightweight 100W Type-C adapter to run at full power. When outlets aren't available, the battery lasts through up to 10 hours of video playback, so you can unplug and unwind anywhere. 
Beyond superlatives as a super small, super slim stunner, what sets the Flow X13 apart is its seamless integration with a brand-new class of external GPU that adds tremendous power and flexibility while maintaining portability. 
The innovative ROG XG Mobile is an eGPU that's a fraction of the size of external graphics alternatives, so it can go wherever the flow takes you. Yet it unlocks next-level performance with up to a GeForce RTX™ 3080 GPU connected directly to the CPU via a custom PCIe® 3.0 x8 interface that's faster than Thunderbolt 4. A dedicated USB 3.2 Gen 2 link feeds an I/O hub that lets you deploy a mobile battlestation on the fly, while an integrated 280W AC adapter powers both the XG Mobile and Flow X13 to create an ultraportable package. 
Together, the Flow X13 and XG Mobile empower you with a new level of freedom and flexibility, flipping preconceptions of what a 13" device can do. Game, connect, and create anywhere, while keeping desktop-class power in your bag. 
Go with it 
Flex your muscles in any mode with the Flow X13's slick convertible design. Integrated one-touch login wakes the device just like a phone, so you can dive in whenever the mood strikes.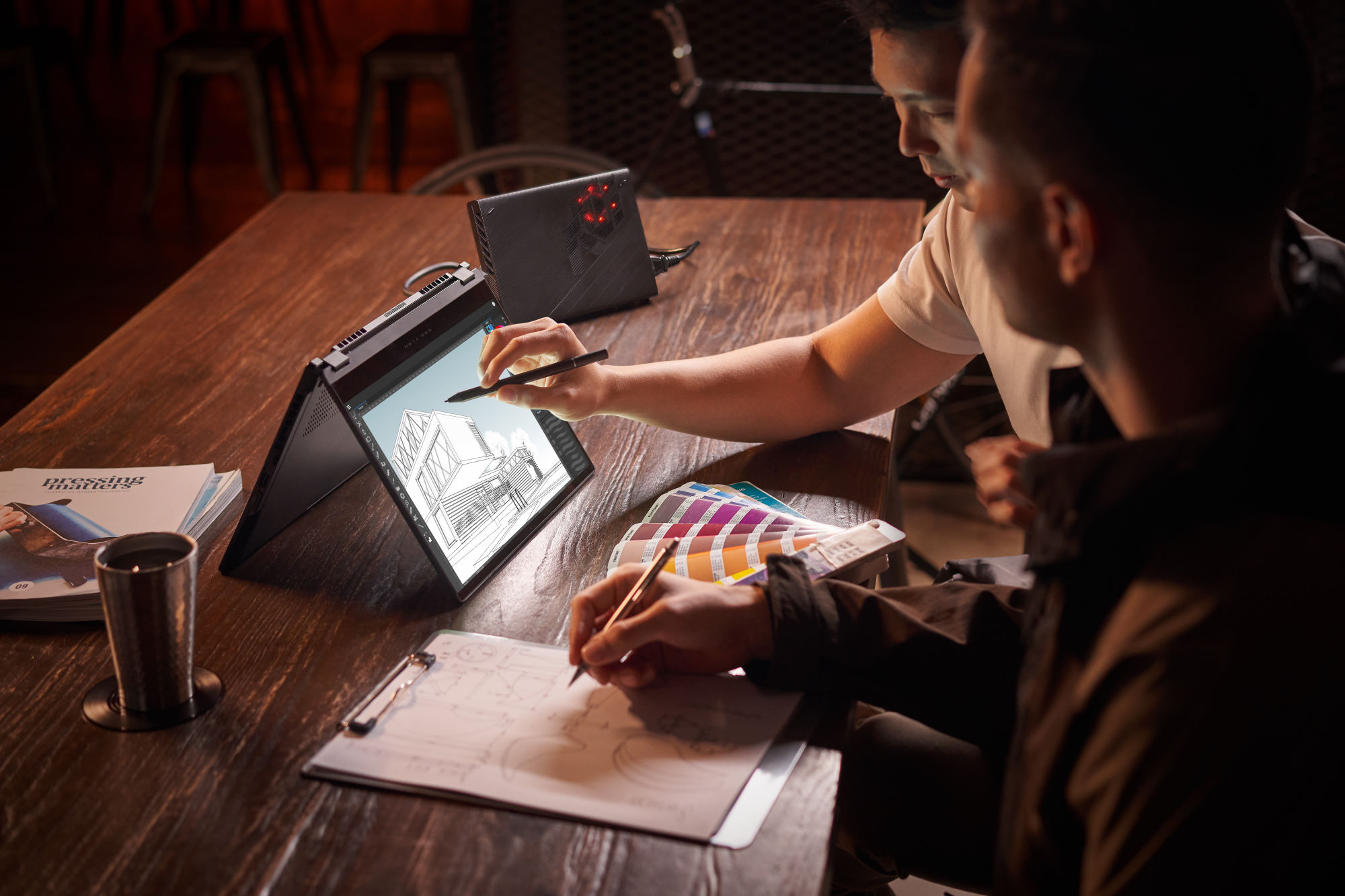 Open up into standard laptop mode for serious gaming and multitasking. Tilt the screen back as far as you'd like for comfortable viewing on your lap, on a desk, or while reclined on the couch. Taking the touchscreen full circle enables tablet mode, letting you sit back and swipe through content like you would on any tablet. Grab a compatible active stylus like the ASUS Pen to draw and take notes easily. The touchscreen is protected by Corning Gorilla Glass that resists scratches from everyday use.  
While laptop and tablet modes are the main event, the 360° hinge opens the door to more than the 2-in-1 designation implies. Rotate into stand mode to bring the display closer to you. Or, if space is limited, prop up the device in tent mode to minimize the footprint. These positions also give the cooling fans more unobstructed space to draw in air, lowering temperatures by up to 8 degrees. 
The 13" chassis is lean and lightweight at only 15.8mm thin and 1.3kg (2.9lb), so it fits easily into a crowded backpack. Holding the laptop is more secure thanks to a textured exterior that also resists fingerprints. The grip's wave-like design is inspired by the circular hinge and hints at the flow of power between this machine and the accessories that help transform your experience. 
Flex your power 
Putting powerful processors in its shape-shifting form factor makes the Flow X13 even more versatile for anyone who wants to do more.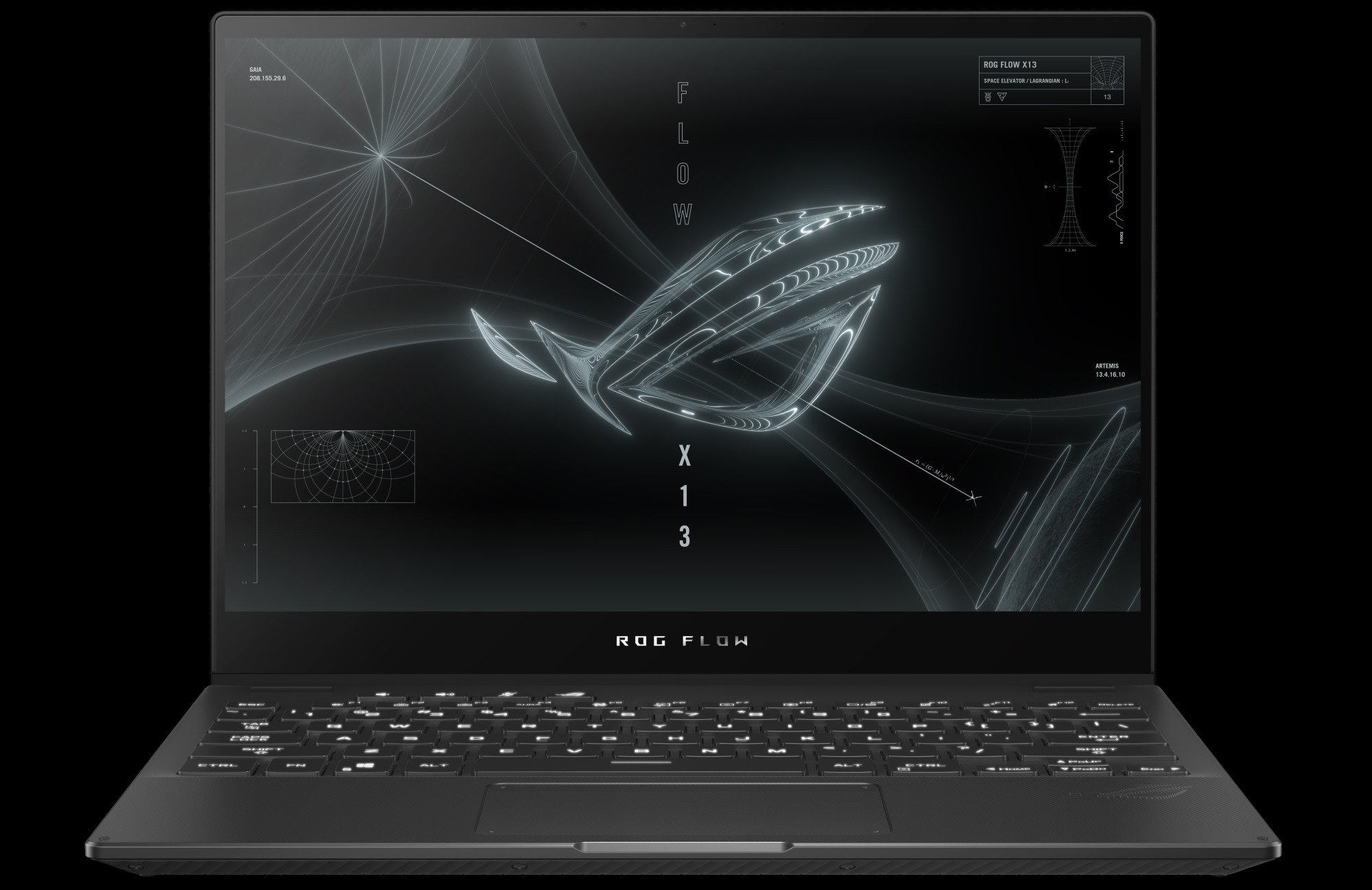 Up to a punchy eight-core AMD® Ryzen™ 9 CPU blazes through day-to-day tasks while activating up to 16 threads to slice through more demanding work. This latest generation of Ryzen 5000 Series mobile processors features a new Zen 3 microarchitecture backed by a large on-chip cache up to 20MB. We use HS versions of the chips, which have a 35W power envelope tuned for ultraslim chassis but are still capable of scaling up to 54W when thermal and power headroom allow. A special Flow X13 Supernova Edition will also be available with the top-of-the-line Ryzen 9 5980HS, which scales up to 4.8GHz on a single core. 
Augment the new Ryzen processors' multitasking prowess with up to 32GB memory, and run all the apps you need to be on your best game and switch gears smoothly between tasks. We use LPDDR4X-4266 RAM that consumes 50% less power than typical DDR4 memory, making it ideal for the ultraslim form factor. Reducing energy consumption means less heat, minimizing the load on the cooling system. LPDDR4X memory type also takes up 46% less surface area on the motherboard thanks to smaller chips and simplified traces, giving us space for such a powerful CPU and GPU.  
A nimble PCIe® SSD loads games and apps at warp speed. With up to 1TB of capacity, you can keep your game collection and professional portfolio close at hand. 
Gaming to go 
Games run smoothly and reliably on the GeForce® GTX™ 1650. Capable of hitting clock speeds up to 1255MHzHz at 35W in Turbo mode with ROG Boost, with the ability to draw an additional 5W via Dynamic Boost, this GPU offers ample firepower to play popular games with friends, including the latest shooters and battle royales. (Dynamic Boost is not available in the Flow X13 Supernova Edition.)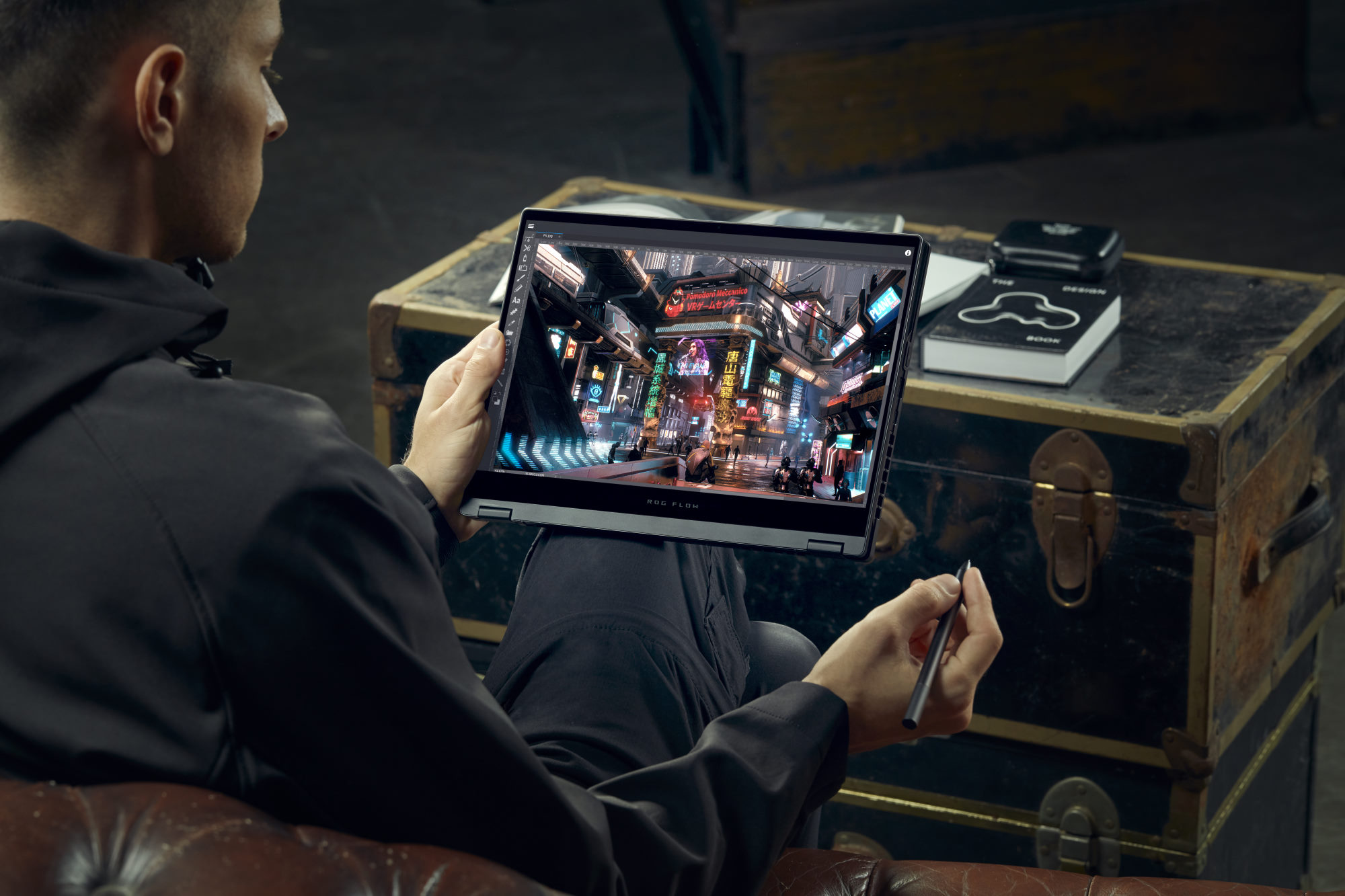 Complete the visual experience with a choice of displays. Competitive-minded gamers can go all-in on speed with a 120Hz FHD panel. Its high refresh rate enables silkier gameplay that's especially noticeable in fast-paced titles where reaction times spell the difference between victory and defeat. Graphics look particularly fluid with Adaptive-Sync, which synchronizes the display's refresh rate with the GPU's frame rate to reduce lag, minimize stuttering, and eliminate visual tearing. 
Adaptive-Sync is especially helpful with the optional 4K Ultra HD display that's perfectly suited to creating and consuming content. The high pixel density offers a precise canvas for artists and makes even the finest details look sharper and more lifelike, enabling more immersive experiences that pull you deeper into the action. 
Both display options are PANTONE® Validated to guarantee color accuracy. Experience games, art, and videos in the precise palette the creators intended, and create masterpieces of your own on screens that are factory-calibrated to a globally recognized standard. 
The touchscreens also have a taller 16:10 aspect ratio, giving you more vertical space for tabs, toolbars, and in-app controls. Gamers have more room for their heads-up display and action bars, while creators have an expanded canvas for crucial commands. 
Unhindered cooling 
Gaming and content creation require considerable power that's especially difficult to deliver in a compact form factors. We don't want to compromise, so the Flow X13's cooling system is fine-tuned to enable big performance despite the small chassis. 
To give ourselves more thermal headroom, we paint a thin layer of liquid metal thermal compound onto the CPU. Liquid metal improves thermal transfer to the heatpipes and reduces the processor temperature by up to 10°C compared to standard thermal paste. 
Applying liquid metal is delicate work that is typically done by hand. ROG was the first in the world to develop a method that automates application for mass production. Now, we've adjusted that patented process for AMD Ryzen processors. These chips present different challenges due to the presence of conductive components around the die. Updating the process keeps us on the cutting edge, allowing ROG to be the only laptop maker mass-producing systems with liquid metal on AMD CPUs. 
Heat is transferred away from the CPU, GPU, and VRM by two heatpipes optimized for efficiency. The Flow X13 is so compact that every millimeter matters, so we developed slimmer heatpipes that save space and increase the contact area for thermal transfer. We also retooled the thermal module to fit three large heatsinks and fan outlets inside the system, far more than typically seen in a device this size. Together, these heatsinks offer 44,230mm2 of surface area for fast and efficient heat dissipation.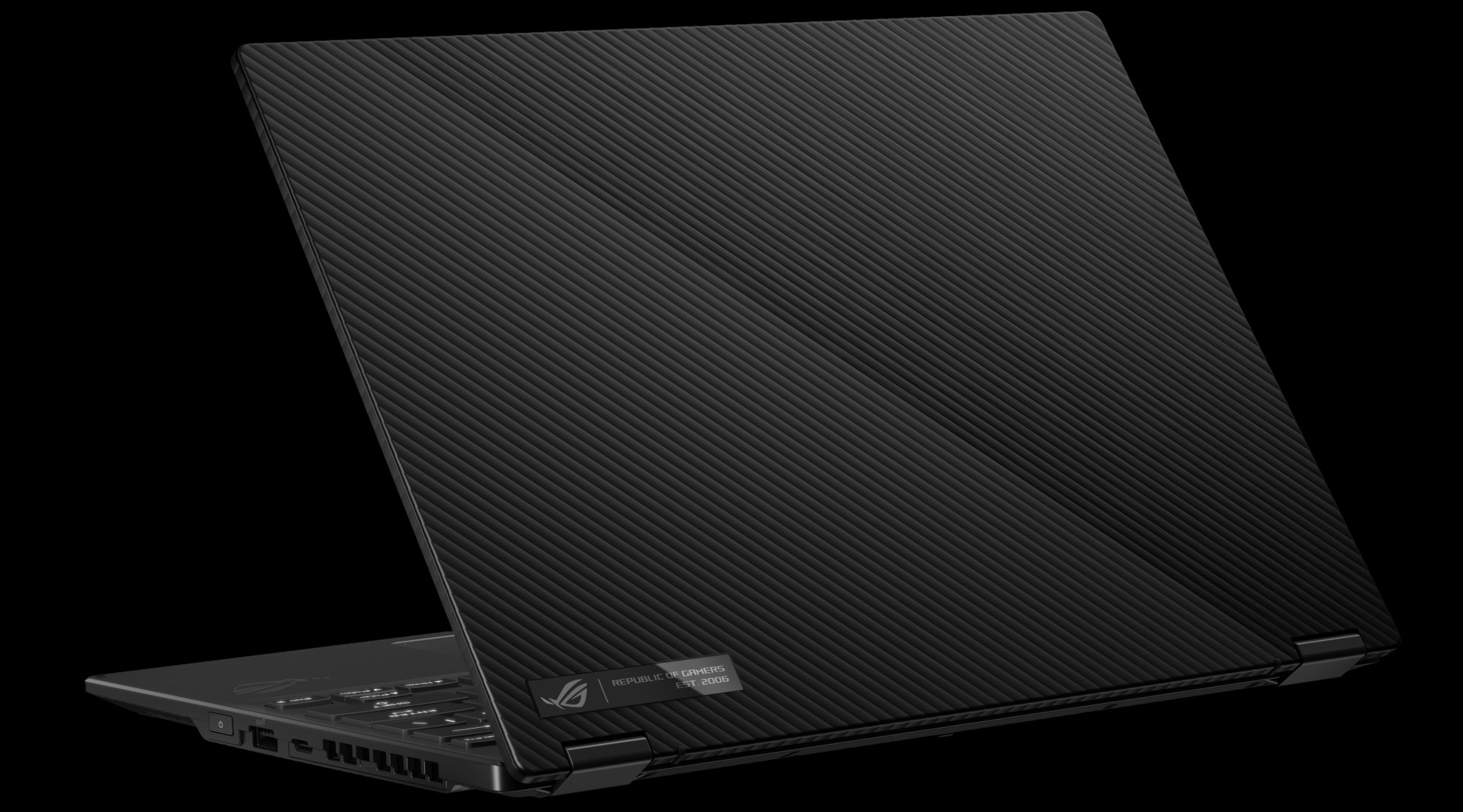 Dual Arc Flow fans generate maximum airflow with minimal noise. They're based on a new design with 84 blades that vary in thickness to move more air. A lot of fan noise is generated by turbulence, so the blades are capped with special tips that follow an aerodynamic wave pattern that stabilizes the airflow. These advancements improve airflow by up to 13% without increasing noise. With 0dB Technology, the fans switch off completely when CPU and GPU temperatures are low in the Silent operating mode. This makes cooling truly silent under light workloads. 
The self-cleaning thermal module uses anti-dust tunnels to channel particles away from the fans and heatsinks. Minimizing build-up helps the cooling system operate more reliably over time, giving the laptop a long life of fast and flexible gaming. Our latest design shortens the tunnels to make more space for both larger fans and more airflow around them.  
Augment your experience 
While these advanced cooling measures help carve out compelling performance despite the ultraslim chassis, sometimes you just need more: faster frame rates for tournament-level esports, greater horsepower for 4K gaming, or richer resources for GPU-accelerated apps. Those can only be provided by a bigger GPU with more cooling, so we thought outside the box.  
We're pioneers in the field of external graphics, having introduced the very first eGPU dock back in 2007 with the original XG Station. But external GPUs are typically too large to travel; they take up considerable space on a desk, much less tucked inside a packed backpack. A device of that size would negate the easy-to-carry appeal of the Flow X13, so we reinvented the concept to create something truly portable.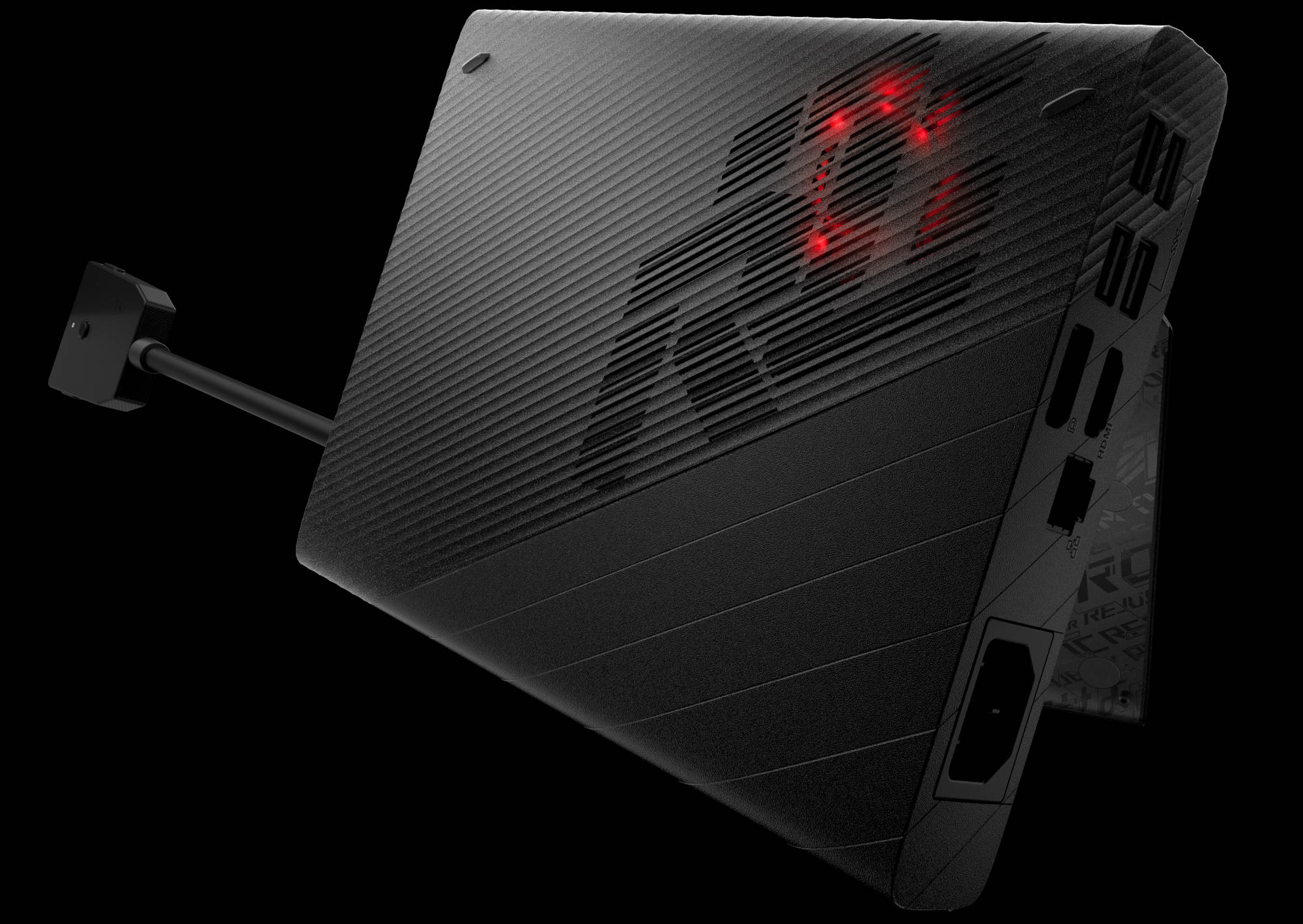 The ROG XG Mobile is an eGPU that redefines what ultraportable gaming can be, taking versatility to the next level for hardcore gaming and content creation. Weighing in at only 1kg (2.2lb) and measuring just 155mm (D) x 208mm (W) x 29mm (H), it's a mere 6% of the size of typical eGPUs despite being available with up to a GeForce RTX 3080 GPU clocked to 1810MHz at 150W with ROG Boost. 
The top-of-the-line GPU pushes pixels fast enough for high frame rates across a wide range of genres. It's based on the new NVIDIA Ampere architecture that combines CUDA cores for programmable shading with second-generation RT cores for advanced ray tracing and third-generation Tensor cores that offer greater throughput for AI-accelerated DLSS graphics. Together, they enable real-time reflections, shadows, and lighting effects that are closer to life than ever. The powerful GPU can also be harnessed to speed up other tasks, like 3D modeling, video rendering, and other intensive work. Support for Resizable BAR enables the CPU to access all of the GPU memory at once, which can improve performance in many games.
Efficient vapor chamber cooling keeps the XG Mobile operating at ideal temperatures, even in its petite package. The compact vapor chamber design increases contact surface area by 54% compared to heat pipes, maximizing thermal transfer to the heatsink fins for rapid dissipation—and helping sustain serious speed during marathon gaming sessions. 
External GPU performance is limited by the interface, so we created our own to bypass bottlenecks. The XG Mobile connects directly to the CPU with a custom PCIe® 3.0 x8 interface that's much faster than Thunderbolt 4. It avoids extra hops through separate controllers and dedicates 63Gbps of bandwidth exclusively to graphics, resulting in significantly better performance than eGPU alternatives. A separate USB 3.2 Gen 2 connection adds 10Gbps just for I/O, and both share a 41cm long cable that lets you position your devices as needed. 
The USB link drives the XG Mobile's secondary mission as a multi-port hub that you can use to build out a mobile battlestation anywhere you want. It has four USB 3.2 Gen 1 Type-A ports for all your peripherals, a full-sized SD slot to read flash memory cards on the fly, and a Gigabit Ethernet port for ultra-low-latency multiplayer gaming. DisplayPort 1.4 and HDMI 2.0a outputs stem directly from the external GPU, making it easy to connect gaming monitors and big-screen TVs. 
Everything is powered by an integrated 280W adapter that feeds the XG Mobile and laptop simultaneously, so you don't need to weigh yourself down with a separate power brick. Altogether, the streamlined design offers an innovative new way to bring desktop-class gaming performance to an ultraportable form factor. 
Live long and travel far 
Adding to a long list of superpowers that includes transformative versatility and super strength on demand, the Flow X13 has exceptional endurance thanks to a long-lasting battery that can power up to 10 hours of video playback. You can keep the laptop close at hand for a full day of activity streaming your favorite shows, working from home, or chatting with friends.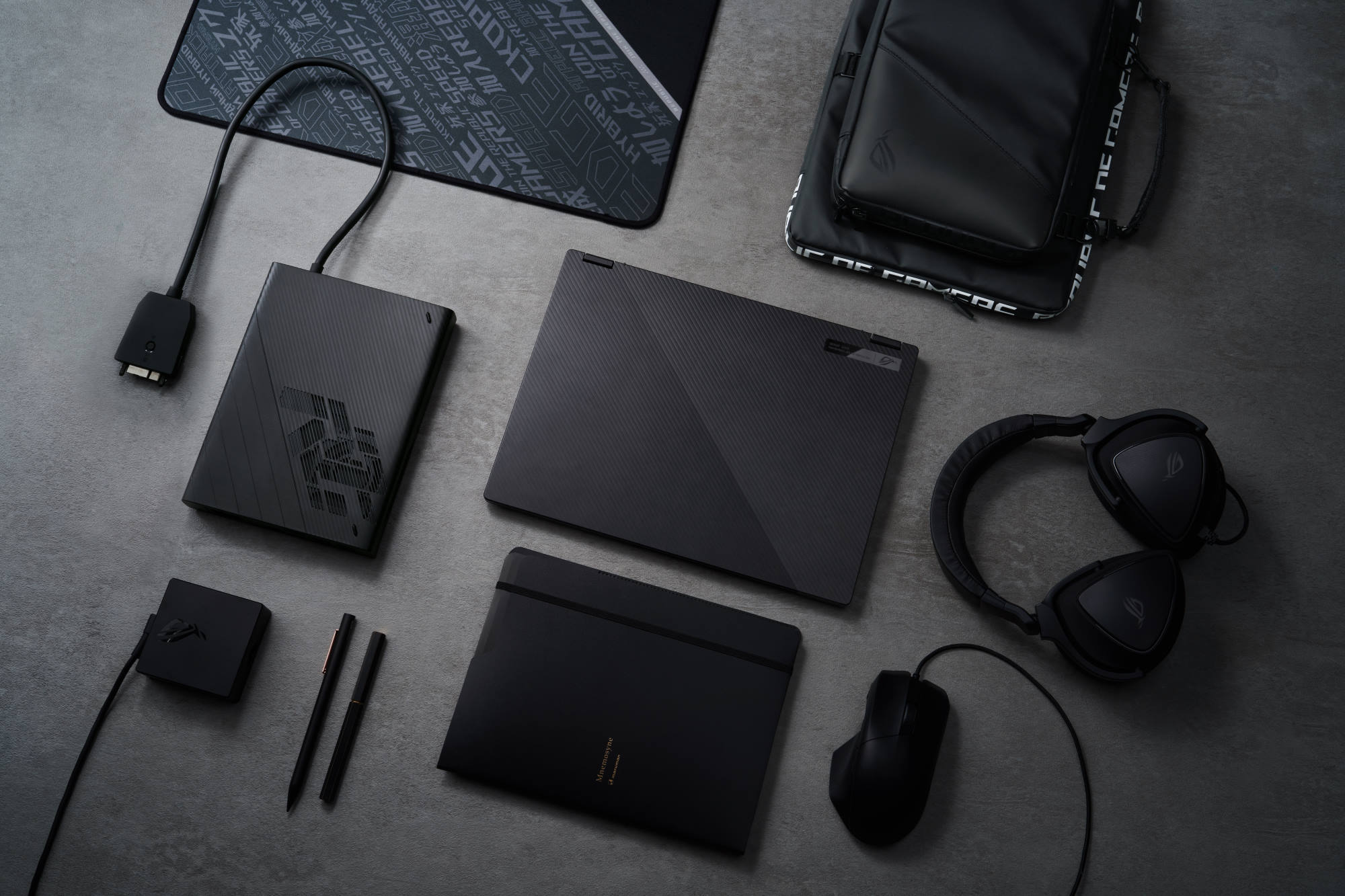 Type-C charging support means you can top off the battery from portable power packs. No scrambling for an outlet necessary. This is especially handy on the move, whether it's your daily commute or an adventure into a wild world without wall sockets. 
When it's finally time for a full recharge, the Flow X13 plugs in via a svelte and streamlined 100W Type-C adapter that's much smaller than the power brick usually required by gaming laptops. The adapter measures just 75 x 75 x 28.8mm and weighs only 300g (10.6oz), lightening your load on the road. Fast-charging technology takes the laptop from 0% to 50% in only 30 minutes: a quick pause before you play again. 
Crystal clear sound 
When it's time to game, the Flow X13 pulls out every trick in its arsenal to place you in the heart of the action. Enjoy deeper immersion and soak up the ambiance with virtual 5.1.2-channel surround sound powered by Dolby Atmos. Dive into in spatial soundscapes, and use rich, directional audio cues to get the jump on enemies. 
For a louder and more engrossing experience, Smart Amp tech keeps the onboard speakers within thermal and excursion limits, so you can max out the volume without damaging the cones.  
To improve voice chat, advanced Two-Way AI Noise Cancelation removes unwanted sounds from both input and output audio. It can be applied to any device and even customized on a per-app basis, so you can limit noise-canceling to chat apps without affecting in-game sounds that you want to hear. Gamers can communicate better with teammates, creators can record cleaner audio in any environment, and everyone can enjoy clear conversation.  
Two-Way AI Noise Cancelation runs on the CPU, which minimizes the impact on gaming performance compared to alternatives that use the GPU. With our technology, the GPU is free to focus on maximizing frame rates for silky smooth graphics. 
Full-sized convenience  
This convertible is built to accommodate whatever flow you're in. For more comfortable typing and gaming, our edge-to-edge keyboard design packs a full-sized, desktop-style layout into the compact chassis. The ErgoLift hinge raises the back of the keyboard as you open the machine, improving your angle of attack.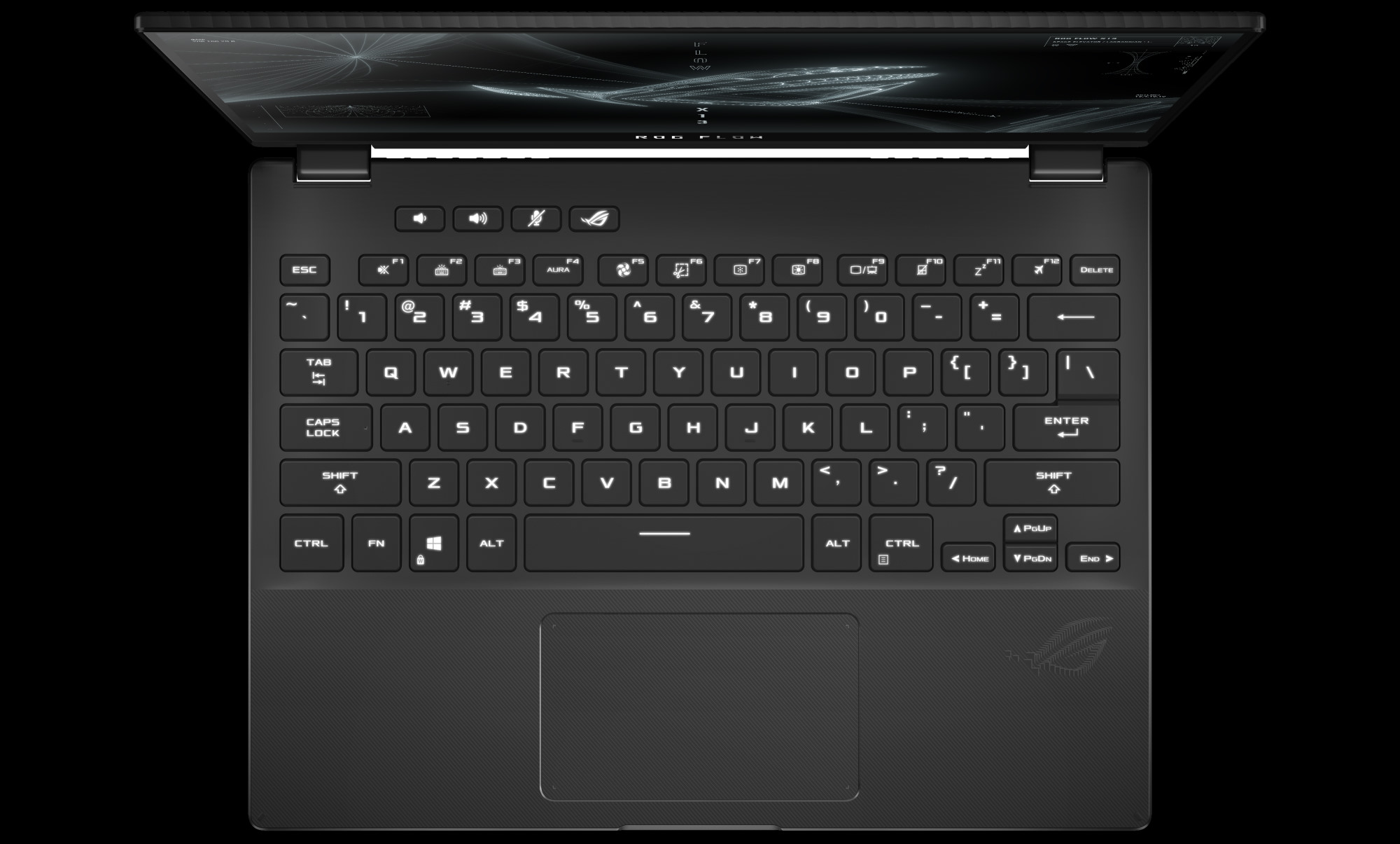 Each key features a curved cap that cradles your fingertip to maximize accuracy, while a 1.7mm travel distance enables comfortable keystrokes. N-key rollover ensures even complex, multi-key inputs are registered accurately at speed, so you can mash in-app shortcuts and in-game cool downs with confidence. Tasteful white backlighting makes every key easy to find in low-light environments, inside or outside. 
We haven't forgotten about peripherals and other accessories, either. Even though the Flow X13 is small, it offers a variety of ports for all of your favorite gear. 
Connect a headset or headphones via the audio jack to take full advantage of our new surround sound and noise-canceling features. Charge rapidly or hook up an external monitor for more efficient multitasking with a USB 3.2 Gen 2 Type-C port that supports both Power Delivery and DisplayPort 1.4*. Need to hook up another display or projector? The HDMI 2.0b port has you covered. A USB 3.2 Gen 2 Type-A port is ready for your gaming mouse or gamepad. If your ideal mobile battlestation demands more ports, you can plug in the XG Mobile to expand your setup. Otherwise, our proprietary XG Mobile connector includes an additional USB 3.2 Gen 2 Type-C port that provides extra flexibility. 
* In Germany, the ROG Flow X13's USB 3.2 Gen 2 Type-C port does not support Power Delivery. 
ROG Flow X13
CPU
Ryzen 9 5980HS
Ryzen 9 5900HS
Ryzen 7 5800HS
Display
60Hz 3840×2400 116% sRGB
120Hz 1920×1200 100% sRGB
GPU
GeForce GTX 1650
Memory
32GB LPDDR4X
16GB LPDDR4X
Storage
1TB SSD
512GB SSD
I/O
ROG XG Mobile interface
1x USB 3.2 Gen 2 Type-A
2x USB 3.2 Gen 2 Type-C
1x audio combo jack
1x HDMI 2.0b
Battery
62Wh
Size
299 x 222 x 15.8mm
1.3kg

Make waves with the ROG Flow X13 
Power comes in all shapes and sizes. The dynamic ROG Flow X13 provides it in a uniquely small and versatile package. As a convertible, a gaming laptop, and a canvas for your creativity, this device flexes serious functionality. The everyday convenience you get from the ultraportable design melds seamlessly with the optional XG Mobile to deliver unprecedented performance and flexibility.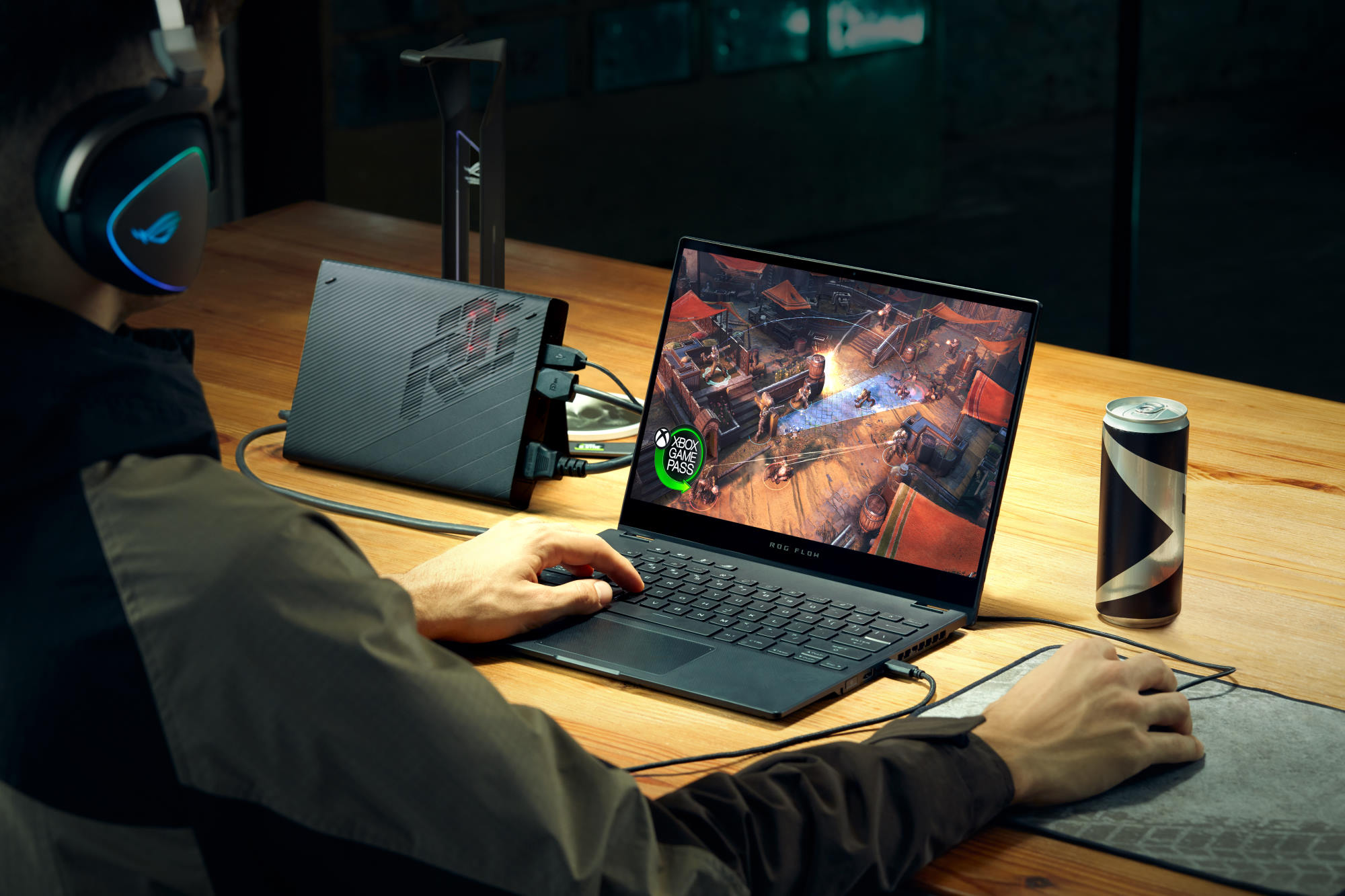 The Flow X13 and our bold new approach to external graphics offer a new kind of freedom that's rare and refreshing in the world of gaming laptops. Augment your experience on the fly, accessorize with a full arsenal, or travel light with just your laptop in-hand. The choice is yours. Wherever inspiration takes you: go with it.