One role or one interest doesn't define us. Today's gamers use PCs to pursue a wide range of activities. We're quick to draw friends into an online match, but we're also artists, coders, and storytellers. We're entrepreneurs, musicians, and students. The ROG Zephyrus M16 raises your game in any of these roles.
It starts with a captivating display framed by super-narrow bezels on all four sides. The immersive 94% screen-to-body ratio lets us fit a 16" screen inside a compact chassis smaller than last year's 15" Zephyrus M15. For fluid, richly detailed visuals in games, the panel combines a high WQHD resolution with a fast 165Hz refresh rate, 3ms response time, and Adaptive-Sync. It's also an ideal canvas for artistic endeavors thanks to a taller 16:10 aspect ratio, Pantone-validated colors across 100% of the cinema-grade DCI-P3 color gamut, and Dolby Vision support for richer visuals.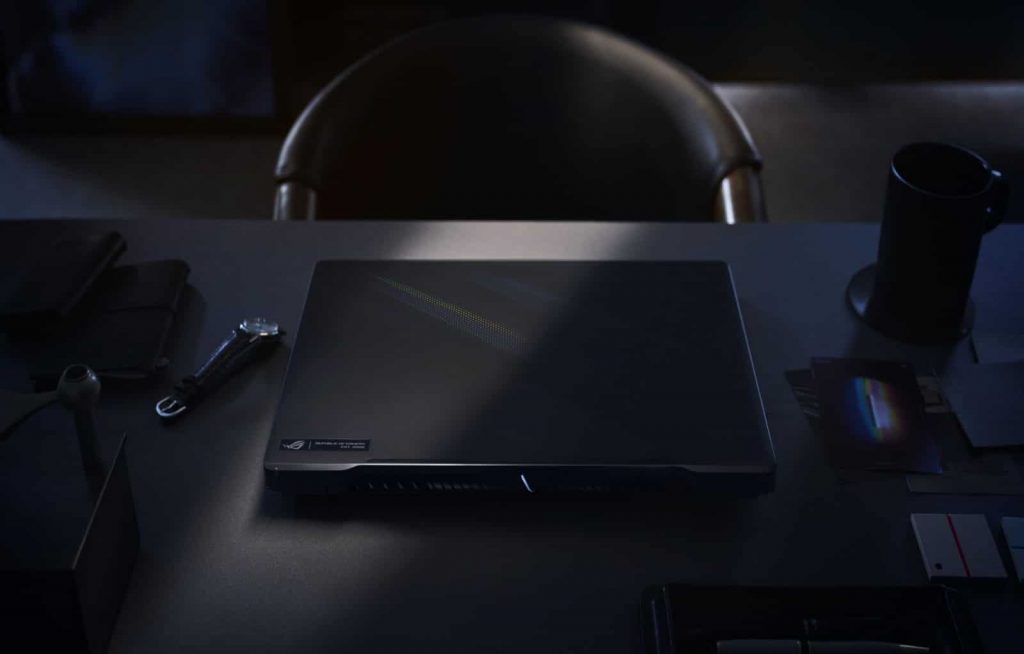 The unique display creates countless possibilities, and the laptop's next-gen components make them real. The latest processors up to an 11th Gen Intel Core i9-11900H drive high-refresh-rate gaming and exceptional performance in content creation. NVIDIA's latest Ampere architecture supplies more gaming muscle, with the GeForce RTX 3070 in the top config delivering high FPS and powerful RTX technologies in the latest games. ROG Intelligent Cooling keeps the M16 cool under your fingers while ensuring the CPU and GPU can deliver the performance you crave.
Quiet cooling makes it easy to appreciate the premium sound system, which caters to music lovers and movie buffs—and anyone who loves to hit the record button. Six speakers with dual force-canceling woofers produce clear, deep audio enhanced by Dolby Atmos surround sound. The 3D mic array lets you capture the moment with clarity, and Two-Way AI Noise Cancelation intelligently removes distracting background noise in any scenario.
The Zephyrus M16 is a luxuriously thin and light companion. Draped in sultry Off Black, with lustrous Prismatic Film peeking through CNC-milled perforations, it's a subtle stunner that communicates style and professionalism wherever you go.
Flexible, powerful, and sophisticated, the ROG Zephyrus M16 gives you the tools to pursue all your talents, from exhilarating gaming to inspired artistry alike.
Blow away the bezels
It's hard to pull your eyes away from the Zephyrus M16's spacious 16" display. A streamlined design let us fit this screen into a svelte chassis that's actually 5% smaller than last year's 15" Zephyrus M15. That's only possible thanks to vanishingly small bezels, a mere 4.6mm on the sides, plus a redesigned display cable that shrinks the bezel below. Together, they create an immersive 94% screen-to-body ratio that draws you in.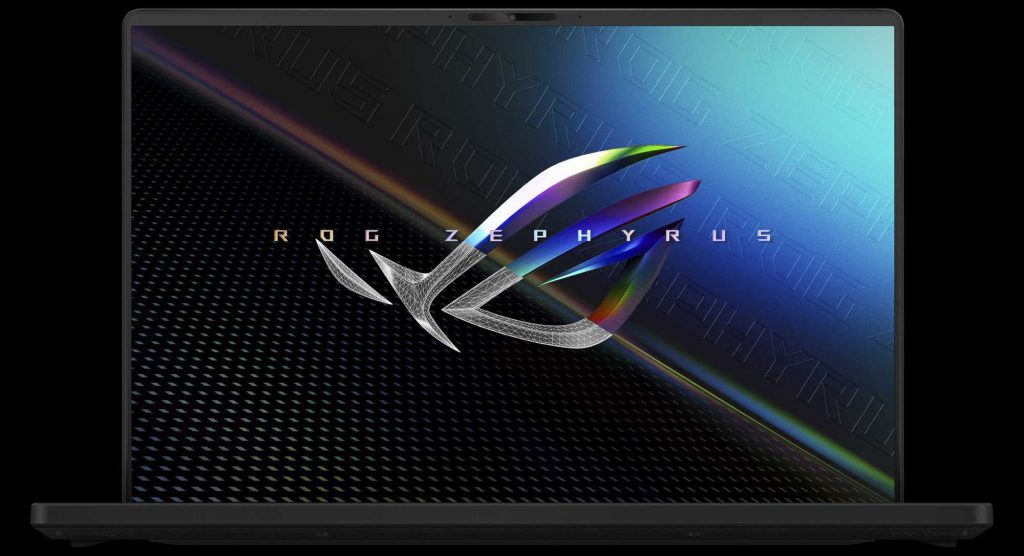 The underlying panel strikes a satisfying balance for a wide range of activities. You don't have to choose between fluid animation that offers an edge in competitive play and lush visuals that engage your imagination in AAA titles. The speedy 165Hz refresh rate and detailed WQHD resolution deliver both, while the 3ms response time keeps the scene sharp, with no blurring. Adaptive-Sync eliminates ugly screen tearing and makes gameplay even smoother by synchronizing the refresh rate with the GPU's frame rate.
More than just a gamer, the M16 is also ready for the demands of content creators. Color accuracy is critical when you're fine-tuning your latest photo, video, or digital art. That's why the display is factory calibrated and Pantone Validated to ensure accurate colors right out of the box, no colorimeter required. Full coverage of the cinema-grade DCI-P3 color gamut offers a vibrant palette of lifelike colors that leap off the screen, while 500 nits of brightness delivers a vivid picture even in outdoor environments.
Dolby Vision improves your media experience by dynamically adjusting visuals to make every image richer, brighter, and livelier. With it, creators can film and edit their videos and streams in a format commonly used by industry professionals.
Even everyday computing is enhanced by the display. The taller 16:10 aspect ratio offers additional space for menus, ribbons, and toolbars, letting you see more of the content you care about the most while keeping critical interface components in view. It's a welcome upgrade for web browsing, a killer feature for content creation, and even opens up more room for your in-game HUD.
Next-level performance
Take charge of every moment with the latest Tiger Lake processors from Intel. The Core i9-11900H in the top configuration clocks up to a blazing 4.9GHz, giving you snappy and responsive performance. With eight cores and sixteen threads, it's ready to tackle the tough work of game streaming, video rendering, and all kinds of creative projects. Our advanced system design allows the CPU to run on up to 45W of sustained power when the GPU is active and 80W on its own.
We pair the processor with up to 48GB of speedy DDR4-3200 RAM to give you plenty of headroom for heavy multitasking and projects with high-resolution assets. Load those assets at warp speed and enjoy ultrafast access to games and apps on a PCIe 4.0 SSD with up to 2TB of storage. The second SSD slot makes it easy to add more storage for your expanding game library and professional portfolio.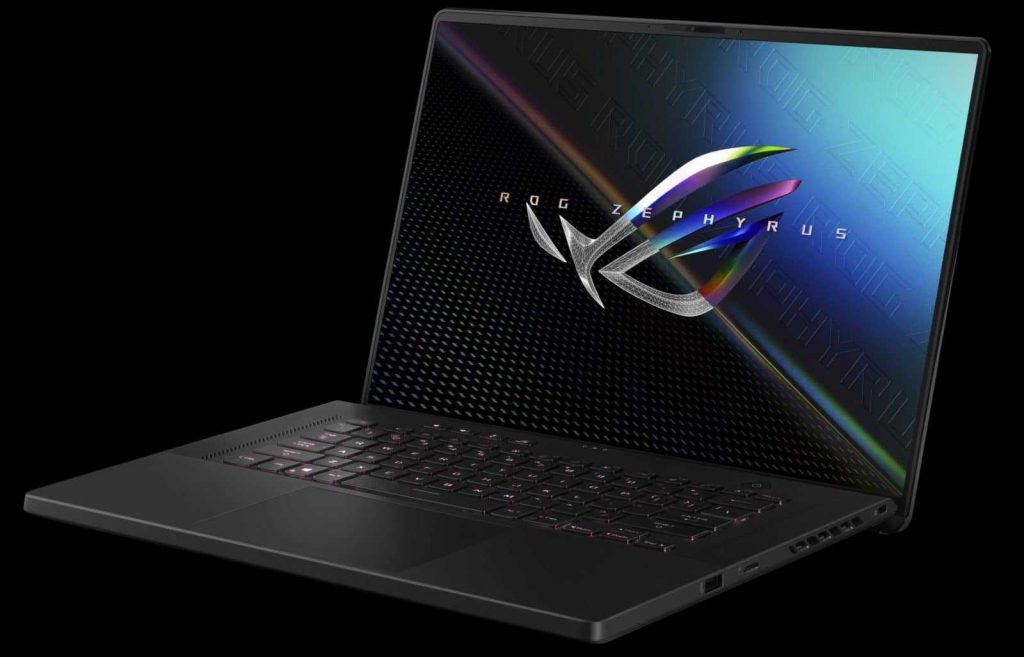 NVIDIA graphics up to the GeForce RTX 3070 Laptop GPU give the Zephyrus M16 outsized gaming performance for such a slender machine. Efficient cooling lets us clock the RTX 3070 up to 1390MHz at 80W with ROG Boost. Dynamic Boost diverts an extra 20W of power when CPU loads are lighter, unlocking more performance when you need it the most, so you can enjoy smooth frame rates even when the action gets hot.
Like the rest of the GeForce RTX 30 Series, the 3070 is based on a cutting-edge Ampere architecture with updated CUDA cores for programmable shading, enhanced RT cores for real-time ray tracing, and augmented Tensor cores for accelerating AI. It supports real-time ray tracing to produce the most lifelike visuals and uses DLSS 2.0 to let you experience them at high frame rates. The GPU can also speed up other workloads like image processing, 3D modeling, and deep learning.
A full suite of ROG Intelligent Cooling technologies make it possible to have high performance, quiet acoustics, and cool temperatures in a slim and light chassis. Exotic liquid metal thermal compound, applied with our patented process, reduces CPU temperatures up to 10°C compared to traditional thermal paste. Six heatpipes transfer heat away from the CPU and GPU to dense heatsinks in the flanks, where it's pushed out by airflow from dual Arc Flow fans. Our new fan design has 84 carefully tapered blades with a special aerodynamic wave pattern on the outer edge that reduces turbulence, enabling more airflow with less noise. With 0dB Technology, the fans turn off completely for silent operation when temperatures dip below 50°C. When the fans are spinning, our updated self-cleaning design diverts dust away from critical cooling components to improve long-term performance and stability.
Throughout the day, you might have different priorities for performance, cooling, and fan noise. The ROG Armoury Crate utility makes it easy to make adjustments as the moment requires. Toggle between the Silent, Performance, and Turbo operating modes with a single click or keyboard shortcut. Scenario Profiles make it even more convenient to play and create with optimal settings. These customizable profiles activate automatically whenever you load an associated app, and they can adjust the Operating Mode, Aura Sync lighting, display and audio settings, and more.
Travel in style
There's no telling where life might take you next. The ROG Zephyrus M16's easy portability makes you ready for the moment, no matter where you get drawn into a game or inspired for your next creative project. At just 19.9mm thin and only 1.9kg, it easily tucks under your arm or slips into your pack.
Wherever you travel, the M16 has the battery life to go the distance. Its capacious 90Wh battery offers up to 10 hours of video playback on a single charge, saving you from spending your day moving from outlet to outlet. When it's time to recharge, fast charging technology gets you to 50% in a mere 30 minutes. Type-C charging capabilities even let you leave the primary power adapter at home. While the full-sized adapter is required for maximum performance, the laptop can handle everyday work running off a smaller Type-C adapter or even a portable USB power pack.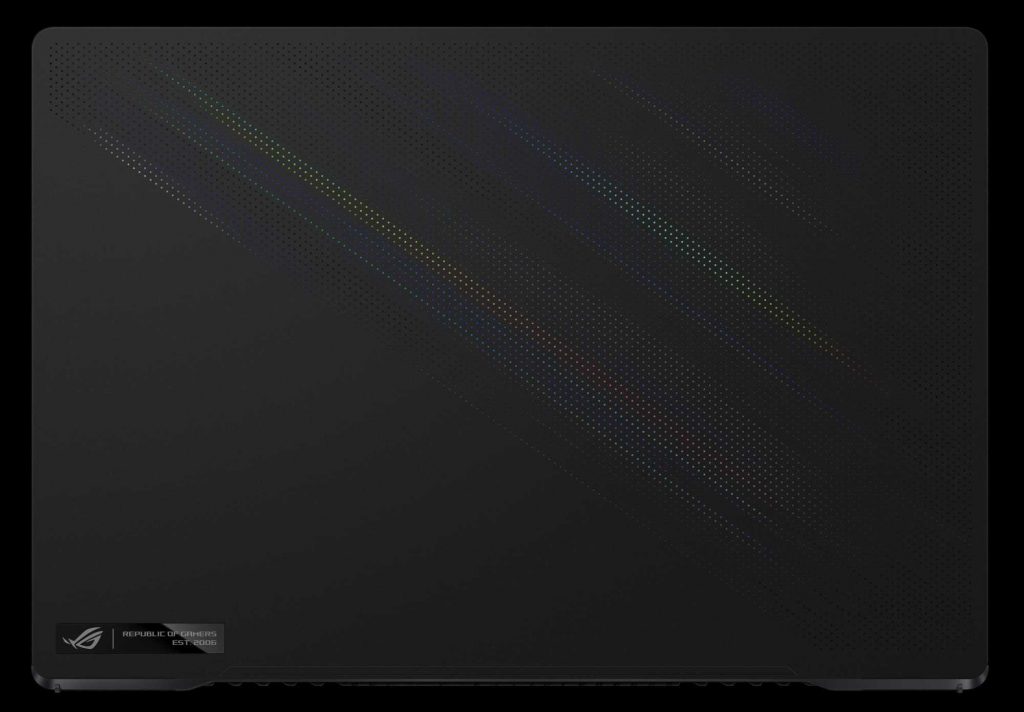 At your workplace, in the coffee shop, or meeting with clients, the Zephyrus M16 communicates professionalism and attention to detail. The Off Black color gives it a neutral look that's never out of place.
Fashion-forward detailing complements that tone with the right amount of personality. 8279 CNC-milled perforations in the lid offer glimpses of the shimmering Prismatic Film beneath. Fingerprint-resistant finishes across the magnesium-aluminum chassis help the laptop look clean and fresh even after a day of use. Soft-touch paint keeps the palmrest cool and comfortable under your hands while warding off unsightly smudging.

The updated 180° ErgoLift hinge offers new possibilities as you move about your day. This hinge raises the rear of the laptop as you open the lid, which places the keyboard at a more comfortable typing angle, gives the cooling vents more room to draw in air, and lets the downward-facing speakers deliver more volume. The hinge can rotate back until the M16 sits flat, so you can position the screen at the perfect angle for the moment.
A music lover's dream rig
The Zephyrus M16's premium audio system draws you into games, movies, and music. A total of six speakers with Dolby Atmos drive thrilling entertainment experiences. Two tweeters team up with dual force-canceling woofers to produce crisp highs and clear bass. Each woofer comprises two speakers that are slightly offset to cancel each other's vibrations, which reduces unwanted resonance.
When it's time to record, the 3D mic array gives you the right mode for the moment. Cardioid mode captures audio sources immediately in front of the laptop, making your voice loud and clear for streaming and chat. Omnidirectional mode picks up sound from the entire room, letting you draw an entire group into a call. Blending the two in stereo mode opens up rich recording opportunities for music creation.
Background noise can be distracting and ruin immersion. Two-Way AI Noise Cancelation intelligently minimizes noise from your teammate's comms, and it provides the same courtesy to your friends, family, and coworkers by minimizing the noise they would otherwise hear from your microphone. It can be applied to any device and even customized on a per-app basis to limit noise-canceling to chat without affecting in-game sounds that you want to hear. Since the advanced algorithm runs on the CPU, it minimizes the impact on gaming performance compared to alternatives that use the GPU.
All the right ports in all the right places
Flexible connectivity options and thoughtfully designed inputs smooth the way for gaming, creative projects, and everyday computing. The Thunderbolt 4 port gives you one easy access point for just about everything you need to connect to your PC. It'll drive two 4K displays at 60Hz or a single 8K monitor, and it'll let you quickly access media and other data on external drives with lightning-quick transfer speeds. You can charge the laptop and other devices through this port, too, including Type-C USB gear.
A separate Type-C port and a pair of Type-A USB ports let you connect all your gaming peripherals without relying on an external hub. WiFi 6 lets you take advantage of faster wireless networks, while the Ethernet jack provides a pristine connection for serious multiplayer. The handy microSD card reader makes it easy to access the media from cameras and other devices.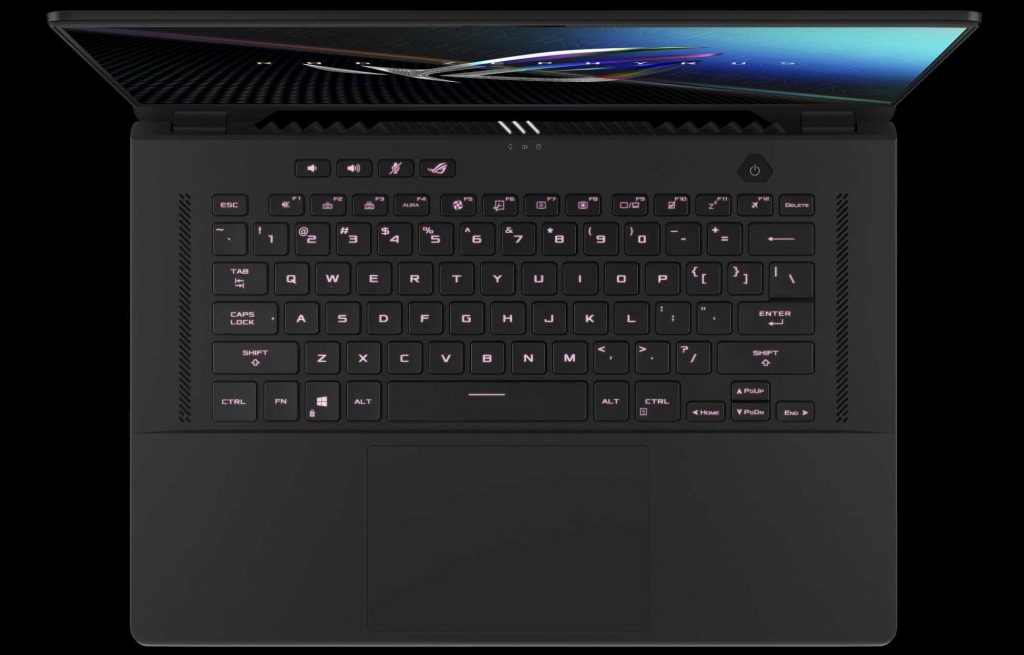 Comfortable input devices put the M16 at your beck and call. The Stealth Type keyboard has a desktop-style layout that feels familiar, and typing noise stays under 30dB so that you can work and play without disturbing anyone nearby. We've increased the size of the touchpad by 20% compared to the last generation, and it's more accurate thanks to faster processing. The larger area stays within range of your fingers and accurately responds to every command.
An integrated webcam and fingerprint sensor offer convenient tools for logging in and staying in touch. Traditional cameras use either 2DNR technology that analyzes individual frames to correct noise, or 3DNR technology that analyzes frames in sequence to improve fidelity with moving objects. The Zephyrus M16 blends 2DNR and 3DNR technology to ensure you look your best in any situation, even in low-light environments. The fingerprint sensor integrated into the power button offers an especially seamless Windows Hello experience. It briefly caches your fingerprint when you turn on the laptop and then automatically logs in with the correct account.
ROG Zephyrus M16
CPU
Core i9-11900H
Display
165Hz/3ms 16:10 WQHD
100% DCI-P3
GPU
GeForce RTX 3070
GeForce RTX 3060
GeForce RTX 3050 Ti
Memory
Up to 48GB DDR4
Storage
Up to 2TB PCIe 4.0 SSD
2x M.2 slots
Wireless
WiFi 6
Bluetooth 5.2
I/O
1x Thunderbolt 4
1x USB 3.2 Gen 2 Type-C
1x USB 3.2 Gen 2 Type-A
1x USB 3.2 Gen 1 Type-A
1x microSD card reader
1x HDMI 2.0b
1x RJ45
1x audio combo jack
Battery
90Wh
Size
355 x 243.5 x 19.9mm
1.9kg
One machine for everything you do
People who are as passionate about gaming as they are about other pursuits deserve a laptop that's just as multifaceted as they are. The ROG Zephyrus M16 changes roles on a dime, effortlessly shifting from immersive gaming to inspired creating. With a standout display and powerful components inside a thin and lightweight chassis that's ready to move, you can follow the flow wherever it takes you.
The ROG Zephyrus M16 takes gaming, creative aspirations, and everyday computing to the next level. Contact your local ROG representative for more information on pricing and availability in your region.